New parents or experienced ones, you know how tough it is to keep an 8 year old busy. If you can't come up with creative ways to keep them occupied, they won't let you do household work.
So, one genius way is to give your kids the best video camera for 8 year olds. These toy cameras are perfect for daytime activities with siblings or friends. Also, it will improve their skill in photography as well as making innovative videos.
Based on different needs and situations, we have reviewed 5 different cameras. It would be better to consult with your kids about their requirements and buy the one that fits the particulars. Without any more delay, let's start the review.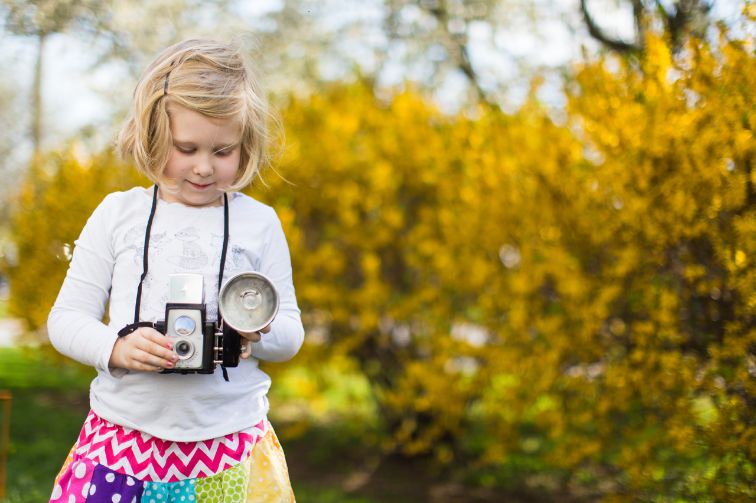 Here are our Top Recommended Best Video Camera for 8-Year-olds:
Best Video: AILEHO Kids Digital Video Camera
Best Selfie: Selfie Video Play Games Mini Child Camcorder
Best Entry-Level: Suncity Kids Video Camera for Boys Girls
Best Compact: 24 Mega Pixels 2.4″ LCD Rechargeable Digital Camera
Best Action: Victure Kids Selfie Action Camera
5 Best Video Camera For 8-Year-Olds: The Review
1. Best Video: AILEHO Kids Digital Video Camera
Things We Like:
High-resolution video recording (1080p)
Interesting frames, special effects, and filters
Large battery (1000 mAh) and screen (2.4″)
Multiple shooting options
The design of handycams is perfect for stable video shoots. Those who have vlog-loving kids will find AILEHO Kids Camera as the best video camera for 8 year old. Its 8MP camera, almost 3 hours of battery backup, and 32 gigs of memory capacity will keep your son or daughter busy the whole day.
Tip: Don't forget to charge it before every use, and please don't use any charger with more than 5V rating.
Most of the cameras for kids have a small 2″ screen, but this one has a 2.4″ display for better viewing. Unlike other camera displays, it is capable of reproducing right colors of an FHD video. Besides, using only 4 buttons, your kid will be able to navigate the menu easily.
Its 4x digital zoom is not enough for photography but sufficient for recording videos. While recording, there are risks of dropping the camera as it doesn't have a protective case or soft silicone cover. However, attaching a hand strap to the camera prevents all sorts of slipping accidents while moving.
It has 15 frames, 6 filters, and 3 special effects for taking funny and stunning shots. So, your kids and his/her friends can enjoy their time together by capturing fun moments.
The 5 interactive games of this camera add more to pass the time. All of those are very time-consuming. But don't worry as it has a 1000 mAh battery to support up to 3 hours with a full charge.
Considering the overall features and price, you should buy this amazing handycam-type video camera. You can even brand it as the best camcorder for 8 year olds, and it would help your kid explore their creativity in making videos.
Who should buy the best video camera?
AILEHO Kids Camera is best suited for recording purposes as the 8MP camera lens can clearly capture moving objects. But it would not give satisfactory quality in still photography. If your kid is into vlogging, this is the best present you can give on his/her birthday.
Summary: Sometimes, the camera menu may freeze by itself. In such situations, manage a small pin, and reset it by inserting it in a small hole beside the charging port. 
👍 Pros:
Good image quality in daylight
Good grip
Easy to operate
👎 Cons:
Poor image quality in low light conditions
2. Best Selfie:

Selfie Video Play Games Mini Child Camcorder
Things We Like:
High-quality pictures (12MP Lens)
Good zoom (8x Digital)
Protective soft silicone case
Energy-saving feature
Among all selected models on this list, it has both a front and rear camera. There is another model with the same setup, but we have chosen it for its image quality. Though this is a toy camera, it has all the necessary functions to meet your children's needs. The fact that an 8-year old can't handle devices with proper care makes this camera suitable for its protective silicone cover.
Tip: Attach a neck strap inside the package to the camera so that your kid can run around, take a picture, and not worry about its safety.
Like the previous product, this one is also easy-to-use and lightweight, which is perfect for kids. The 12MP rear camera can take good-quality images and record up to 1080P video. Besides, there are photo frames and filters that would increase the fun even more.
Gaming and taking photos requires a lot of power. That is why it comes with a 600 mAh battery to support up to 3 hours of usage. However, the charging is not very fast, which takes up to 2 hours to fully charge the battery.
Toy Kids Camera from HuaF is the right choice for kids as its protective case is soft and made from non-toxic materials. Its 32 GB memory capacity is enough for your little angels to take hundreds of selfies every day.
Who should buy the best video camera?
There are lots of kids' cameras with great features and image quality. But this one is the best for those who also love to take selfies. Within a reasonable price, Toy Kids Camera from HuaF is the best camera option with a selfie feature.
Summary: Buy a microSD card separately from a reputed brand to transfer data quickly. A good-quality SD card is also reliable, which means that it wouldn't go bad suddenly and lose all pictures in it. 
👍 Pros:
Built for rough uses
Decent image quality
Games for timepass
Large memory capacity
👎 Cons:
Comparatively small screen
3. Best Entry-Level: Suncity Kids Video Camera

for Boys Girls
Things We Like:
Intuitive menu settings
Nice-looking soft silicone cover
Multiple functions
Compact size
Suncity Kids Camera has almost the same specs and features of the previous product. But this one costs less and has the best features for beginners. Its multiple functions and easy usability are the reasons for this model's popularity.
Tip: Attach the extendable hand strap that comes with the package to carry it around easily.
The main differences between the one from HuaF and the lens quality and battery capacity are this one. Suncity Kids Camera has one lens on the rear, which has only 5MP resolution. And the battery capacity is 500 mAh, which may not seem enough.
But the official feature description tells us that it can support up to 3 hours. We think that it is possible because the camera lens and image quality take less processing power. So, don't expect excellent picture quality from this entry-level toy camera.
However, the 32GB memory can store more photos than other models on the list. So, you won't have to unload the captures too frequently. You boy or girl will love this camera for the cover with a Reindeer Cartoon printed on it.
Who should buy the best video camera?
Those who are buying a camera for their kids for the first time should consider Suncity Kids Camera. Despite the not-so-satisfactory image quality, your kids would love the camera for its functionalities and easy-to-navigate menu.
Summary: Kids don't handle things with care, which is normal. If the camera gets frozen or doesn't function properly, you will have to reset it by pressing the reset button. The only way to do it is by using a small pin. 
👍 Pros:
Simple operation
Shockproof casing
Easy to carry
4. Best Compact: 24 Mega Pixels 2.4″ LCD Rechargeable HD Digital Camera
Things We Like:
High-resolution camera lens (24MP) with flash
Lightweight and compact
Large 2.4″ screen
High-end features and functions
After a few months playing with low-budget toy cameras, you may have to consider another model with more quality for your kids. That is why we have listed and reviewed the highest resolution camera for kids within a tight budget.
It comes with a whopping 24MP camera that will let your kid take stunning photographs. Due to the high-resolution lens, the manufacturer cut on other features to keep the budget low. For example, it has only a 3x digital zoom where the toy cameras offer at least 4x digital zoom.
Tip: The package doesn't include any protective cover or case. So, you should buy one to increase the durability of the camera.
Also, it has only a 600 mAh battery that can provide only 60 minutes of backup. Parents expect at least 2 or 3 hours of backup so that kids can have fun with their friends. Lastly, there are no games, filters, or frames that kids love a lot.
So, should you consider this for your little boy or girl?
The answer is only yes when your kid wants a camera that would help him/her gain more skill in photography. This compact digital camera is the bridge between the toy and serious cameras.
You hear bad things about the camera so far. Now, let's talk about some unique and helpful features that you can't find in other similar category models. First of all, it has a good-quality flashlight to take pictures in the dark.
Secondly, the 2.4″ TFT HD screen will help preview the shots reproducing the colors perfectly. It has all other useful functionalities, such as anti-shake, self-timer, and continuous shooting. With lots of customizable options, an 8-year old can experiment.
Who should buy the best video camera?
Among all other camera options, this one has the highest resolution and high-end camera features. Its compact size and build quality make it perfect for the kids who want to improve their photography skills.
Summary:
You must be expecting a microSD card with the package at this price point. But the manufacturer doesn't provide one. So, buy a
SanDisk 32GB Ultra microSDHC UHS-I
, which is one of the most reliable memory cards.
👍 Pros:
Good quality picture in low-light
Advanced functionalities
Portable
5. Best Action: Victure Kids Selfie Action Camera
Things We Like:
Enough battery backup (1000 mAh)
Ergonomic design on both sides
User-friendly button placement
Shockproof casing
We have selected Victure Kids Selfie Action Camera for its battery backup time, which is almost 5 hours. It also has a selfie camera lens like our selected model in the Best Selfie section. Surprisingly, this one's selfie camera has more resolution than the other model.
Tip: The package includes only a 16GB microSD card, which may not be enough. Also, the brand is not so reliable. So, increase the budget and buy SanDisk 32GB Ultra microSDHC UHS-I.
Now, you may be thinking of why Victure hasn't got the best place. The reason lies in the user reviews that mention its lack of picture quality despite the 12MP spec on the front. So, we looked at other features of this camera and decided that it would be best to consider the backup time.
Despite having only 1000 mAh battery, it can provide up to 5 hours of backup because of low processing power and comparatively small screen.
Is it only the battery that makes it desirable?
No, it is not. The camera has an ergonomic design that helps kids hold still while recording a video or taking a picture. Barrel-shaped design on both sides has buttons that one can easily access.
So, it is easy to hold as well as take pictures or play games. Along with other features that a kid expects from a toy camera, this one is easily considered one of the best video cameras for 8 years old.
Who should buy the best video camera?
If your kids love cameras a lot and spend more time than others, this will be the perfect model to buy. Without having to recharge too frequently, your kids would love this camera taking pictures for the whole day.
Summary: The camera may not turn on right after taking out of the package. You should insert the microSD card and charge it properly. After that, try again, and it should work without any problem.
👍 Pros:
Built-in flash
Multi-function
Long battery life
👎 Cons:
Not so satisfying image quality
What To Consider Before Buying The Best Video Camera For 8-year-olds?
If you rely on the general idea about cameras, you won't be able to find the best camera for 8 year olds. Because some features such as shockproof case, large button, easy operation, etc. are considered insignificant for professional cameras.
But those are the main concerns while choosing a video camera for an 8-year olds So, let's see how you can choose the best camera for your children that won't get broken easily.
Protective Case
Look whether the camera you are choosing has a shockproof case or not. A waterproof case is a bonus, but don't put too much importance on that. A silicone anti-chose case is enough for your 8 years old.
Battery Backup
Toy cameras don't consume a lot of power processing images. So, small batteries with 500 mAh or 600 mAh capacities are enough to approximately provide 3 hours of backup. That should be enough for your kids to spend the day.
Resolution
Indeed, cameras for kids don't have high-resolution lenses or the software to make images high-quality. So, we have tried to maintain a minimum quality within your budget that kids won't hate. If you are not selecting a model from our list, you will have to create a checklist, and maintain it while researching.
Software Features
Kids love fun and interesting things such as funny and cute filters, frames, or special effects. When you are buying a camera for your kid, try to make sure that the software comes with such features.
But some entry-level compact cameras that specialize in photography won't provide those features. If your kid is a bit serious about improving his/her skill, the best option will be to prefer professional features with a good-quality flashlight.
Budget
Finally, set a budget for the camera that your 7 or 8-year old would use. In most cases, kids don't stick with one device or damage within a month or two. So, allocating a lot of money for the device is not wise.
That is why we have chosen such models that don't cost a lot of money. But we haven't compromised any necessary feature described above. So, you can have faith in our selection and choose one for your cute little angel.
Conclusion
We have already reviewed the best video cameras for 8-year-olds and mentioned which one is best for whom. However, some of you may be suffering from indecision and looking for an overall suggestion.
Our final recommendation for you guys considering overall features and price would be Victure Kids Selfie Action Camera. You can also consider a less-expensive and camcorder-type AILEHO Kids Digital Video Camera.
On the other hand, we get a common question, what is the best beginner video camera? The suggested model for this specific requirement is the Suncity Kids Camera. So, which one will you order and be the Best Mom or Dad of the year?
Related: