What better ways are there to capture your memories of a lifetime in 4K? With as many pixels count as 4k, that will be the closest experience ever to reliving those precious moments. Although phones and camcorders can record in 4K, they are not suitable to film extreme situations.
Action cameras with 4k resolution can capture the most immersive clips. You can film from your water dive in Hawai to skiing in the Alps without any second thoughts. These cameras were made for situations like these. They are the most convenient tool to record daring adventures.
There are so many options for these cameras if you take a look at the market. I have made a list of the best 4k action camera that I think you should go for in 2021.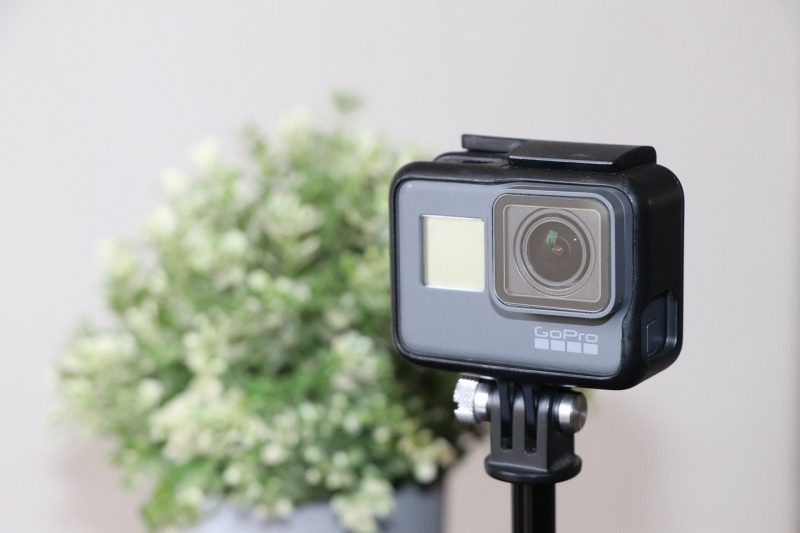 At A Glance: Our Recommended Top 5 4k Action Camera
8x Slow-motion, 20 MP photo, water resistance, 5k recording, Advance stabilization.
36 feet water-resistant without the case, with case 150+ feet, temperature resistant, 240 fps max.
4x zoom, remote control, touchscreen, adjustable FOV, WiFi data transfer
4 channel microphone, WLAN support, Bluetooth connectivity, water resistance.
AI editing, advanced stabilization, modular design, scene detection.
How Are 4K Action Cameras Different?
The action camera has a much more compact design than traditional point and shoot or DSLR cameras. Their build tends to be more rugged than other recording devices. The same is true for 4K action cameras. These cameras have all the characteristics mentioned earlier, plus they can shoot in 4K. Some are made with features like water-resistant, 360-degree view, or with a modular design. You cannot expect these from regular devices.
The phones and handy cams are made to record day to day events, action cams are made to record your live-action adventures. 4K action camera can record the situation around you while you are immersed in it. You will have the freedom to enjoy your activity without worrying if the device is handled correctly. The reason being, unlike traditional devices, they have great mountings options, compact design, and extreme build quality.
A good comparison should between the VanTop Moment 4 vs GoPro.
Top 7 Best 4k Action Camera Reviews
Here is the shortlist of some 4k action cameras that I think you might have in 2021. Let's check what each of them offers and how they perform in their category. Vantop Moment 4 4k sports action camera review.
1. Best Overall: GoPro HERO9 Black
Key Features:
Photo quality: 20 MP
Lens: Fisheye
Slow-mo: 8x
HDR: Yes
Dimension:08 x 5.42 x 3.25 inches
Weight:04 lbs
More features: Advance stabilization, TimeWarp 3.0, live streaming, water resistance
This action camera has been made to the top of the list because it offers the best quality video utilizing features like advanced stabilization, slow motion, etc.
You will get a great overall experience with this camera. On top of 4K resolution, it even offers 5K video recording. Also, great slow-mo and TimeWarp will help you to capture great clips.
Besides offering an astonishing 5K, you can capture 20MP photos with this camera, which you will love. Both photos and videos you capture will be clear, crispy, and colorful. Moreover, you can use it for live streaming or even as a webcam. Let's just say wherever you are, you will be connected to the world.
You will be taking mesmerizing time-lapses and supersmooth videos. Thanks to its specialized processes named TimeWarp 3.0 and Hypersmooth 3.0. It is water-resistant and has a rugged build. So, you can be worry-free during all types of activities.
Summary: You might notice a little lack of quality when using in low light. Other than that, it will not disappoint you in any other aspect. Its solid build, excellent stabilization, voice control will allow a joy ride every time you use it.
👍
Pr
os:
Takes a great picture and video
Very smooth recording
Voice control
Improved battery life
👎 Cons:
Half-decent performance at low light
Sun glare happens
2. Runner Up: DJI Osmo Action – 4K Action Cam
Key Features:
Photo quality: 12MP
Lens: Rounded
Slow-mo: 8x
HDR: Yes
Dimension:56 x 1.65 x 1.38 inches
Weight:4 lbs
More features: 11m water resistant, temperature resistant, iOS, and andriod app available, up to 240 fps at 1080p.
This camera can go deeper than most action cameras without a case. It made a place on the list because it can beat anyone underwater.
If water-based activities are your passion, you will enjoy its service. It can dive deep and hold out water outside its shell.
Without a case, this unit can resist water up to 36 feet. For surfing, it is more than enough; for student scuba divers, it is just enough. If you use a case, that can make it water-resistant up to more than 150+ feet.
Besides excellent water resistance, it uses the RockSteady process to stabilize video. RockSteady uses EIS with complex algorithms to make videos super stable. Its 4K at 60 FPS video capturing ability makes sure your clip will be life-like. Another exciting feature is that you have voice commands to use essential functions like filming, power on/off, etc.
A Tip: Do not use touchscreen underwater, as it won't be accurate there, and it can mess up settings.
Summary: This is an excellent choice for someone who gets their adrenaline rush from water. Just avoid low light filming, and you won't need another action camera for a long time.
👍
Pr
os:
Incredibly stable recording
Can save in MP4 or MOV format
Easy to use
Decent battery life
👎 Cons:
Low performance in low light
Need internet connection for initial activation
3. Best Budget: Dragon Touch 4K Action Camera
Key Features:
Photo quality: 16MP
Lens: Adjustable angle lens
Slow-mo: 4x
HDR: No
Dimension: 29 inches x 4.61 inches x 2.91 inches
Weight: 0.98 lbs
More features: remote control, WiFi, HDMI, touch screen, adjustable FOV
It is a budget alternative that offers all essential features like touch screen, photos, zoom and etc., at a minimal price. It offers the basic features while ensuring the quality too.
You will get to enjoy almost all the necessary features of action cameras like great video quality, wide FOV, burst photo mode at a minimal cost. In terms of quality and price, it is one of the best budget action cameras 2020.
At a low price, you will get to capture 4K videos and 16MP pictures. Using a water-resistant case, you can also make it waterproof. The adjustable field of view gives you a few choices. You can capture videos with both wide and narrow visions.
Although, you will have to compromise with advanced features like time-lapse, smooth stabilization and etc. You will be getting remote control through WiFi.  With the app call XDV, you can share your videos over the internet. The remote control will keep your hands free and trigger recording from a distance.
The 30 fps and 4x zoom look decent when compared to other expensive models. Be it any sport, you will get equally stunning and spectacular shots every time.
A Tip: Format the memory card within the camera to avoid hiccups.
Summary: If you just want to shoot your adventures without fancy features, this is the right choice. It can be considered the best cheap action camera available in the market. However, it lacks some advanced features. What it does, it does those well.
👍
Pr
os:
Wide FOV
Has sturdy build
Has burst photo mode
Decent Video quality
👎 Cons:
Closeup pictures are not so decent
Difficult learning curve
4. Best 360degree:

Insta360 ONE X Action Camera
Key Features:
Photo quality: 18 MP
Lens: Fisheye
Slow-mo: yes
HDR: Yes
Dimension: 53 x 1.77 x 1.18 inches
Weight: 3.2 lbs
More features: Drift shot, stabilized hyperlapse, invisible selfie-stick, ultra-wide lens, removable battery.
It has got on the list because it records 360-degree videos and does that with style. This camera offers a whole array of features like drift shots, slow-mo, FlowState stabilization to help you capture the best video.
You will enjoy the next level of flexibility and versatility this camera offers. With the help of a case, you can take to the most extreme deeds you can imagine. When you are finished recording, the adobe integration will save you from a lot of hassles.
This camera lets you get very creative with its 360-degree video capturing ability. Besides the 4K resolution, you can use its 5.7K to capture hi-res video clips.
If you have a bad experience with shaky videos, you won't have to deal with them any longer. Its FlowState technology keeps every shot steady, whether you go on surfing or jump out of a plane. The TimeShift feature lets you take control of time and perspective. So, you can use your creative thinking to the extent to make some jaw-dropping videos.
Alongside the drift shot that lets you take great photos, you will get to enjoy excellent slow-mo. You can record slow-motion videos at 3K at 100 fps. This camera uses a removable battery. You won't have to wait to recharge it if you carry a few spare batteries. Adobe's integration has made editing videos easier than ever.
A Tip: You should use a  waterproof case if you want to go into the water.
Summary: This is a camera for people who love making creative videos. This camera allows you to take creative clips with great ease. You will have to handle it with care as it lacks durability. Its portability and water resistance makes it a great companion anywhere you want to take it. 
👍
Pr
os:
Takes great photo
Water-resistant
Very portable
Provides ergonomic design
👎 Cons:
Not very durable
Needs case around water
5. Best Modular: Insta360 ONE R Twin Edition
Key Features:
Lens: Wide-angle
Slow-mo: Yes
HDR: Yes
Dimension: 02 x 6.14 x 2.32 inches
Weight:3 pounds
More features: Scene detection, Water-resistant, AI editing, Interchangeable lens.
Alongside being a modular camera, it is packed with some fantastic features. That is why it got put on the list.
Its modularity will allow you exceptional freedom. Also, it has a ton of features like AI editing, voice command, water-resistance, etc.
Modularity is the best feature of this camera. If you don't like any part, you could just change it. You have the freedom to use one or the other or both lenses. It uses H.265 encoding, AI-powered finishing, and advanced image processing to preserve every detail.
Its FlowState stabilization process will provide you with a gimbal-like experience. Even the shakiest videos will play out smoothly.
Insta360 ONE R is IPX8 water-resistant. It will work even when submerged 5 meters down in the water. With its AI editing, you can edit videos in minutes. Applying effects is more straightforward and will take much less time.
A Tip: Using the app, you can live stream 360-degree video to Facebook.
Summary: If flexibility and advance software are your priority, you have found the right option. But, keep in mind that overusing will result in overheating. From my perspective, the Insta360 ONE R is one of the best action cameras for live streaming.
👍
Pr
os:
Great stabilization
Can take RAW pictures
Modular design
The mobile app is handy
👎 Cons:
HDR lack quality
Overheats
6. AKASO EK7000 Pro 4K Action Camera
This is one of the cameras that has an affordable price and does everything very well. It has an intuitive UI, EIS, that helps to smooth out videos. Also, the viewing angle is adjustable. Though it can record in 4K, you will have to make some compromises. For example, when recording in 4K, it only gets 25 frames per second.
The 25 fps is only noticeable if you really want it. Also, you will get higher fps when recording in lower resolutions. Considering the price, build, and video quality, this is another good deal for casual users. It could be a great option if you are OK with the drawback.
7. VanTop Moment 4C 4K/60FPS Action Camera
This camera comes with a few great features. Considering the price point, it is tough to get features like these in the action camera. It has excellent image stabilization.  So, blurry videos and photos are a thing of the past now. It comes with a waterproof case that makes this cam water-resistant up to a hundred meters.
Another thing worth mentioning is that it comes with a large bucket of accessories. It also has features like time-lapse loop recording and etc.
But there are some tradeoffs. It has a few drawbacks like not so user-friendly design, low sound, poor low light performance, and no external mic input. If you think you are ready to make some compromises, it is worth taking a look.
Buying Guide: How To Pick The Best 4k Action Camera In 2020
If you are not familiar with the term 'Choice paralysis,' it is about time. The term describes a situation when it becomes difficult to choose something. Making a choice gets hard because there are too many similar products to choose from.
Don't worry, I've got your back. What To Keep In Mind When Shopping for an Action Camera? Look for these key features to pick the best one as your preference.
Video Quality
Surely, 4K looks pretty everywhere, but resolution alone does not make the video look great. There are other factors like frames per second, lens design, HDR that helps to record quality video.
So, when buying, take a deep look at what that camera offers besides the 4K resolution. Features like FPS count, HDR are necessary to record videos with the highest quality.
Shape and Design
The shape and design of the camera should complement the activity you are recording. As both of these traits are constant, you will need to examine how well it will fit in the moments you will be creating.
For example, it is better to get a camera mounted on the helmet easily for recording cycling sessions. You will have difficulties or need some extra accessories to use the same camera during surfing.
Field of View
Right framing is always one of the most important aspects of recorded videos. FOV helps a lot to decide what kind of framing to use. Although framing depends on the taste, it is better to have options to test out different views.
Narrow FOV won't be recording the environment around you, while wider ones will do the opposite. So, you will have to balance between the two depending on your activity.
Stabilizer
These cameras are built to capture adrenaline rushed fast-paced clips. As we all know, with fast pace comes shaky videos. Several stabilization techniques are used to counter these unwanted shakes like EIS, algorithm-based solution, or both.
Before buying, make use, you have the best stabilization available to you. It will make a difference in every footage you capture.
Accessories
It is very common to use accessories with these cameras. Holding the camera with your hand when adrenaline is rushing into the bloodstream is the last thing you want to do. Attachments accessories will help to ease your day.
It is better if the camera comes with the necessary accessories as it will save you some bucks. Also, these attachments last long as they are specifically designed to use with the product.
Battery
Look for the battery with the most capacity to get the most out of the device. Because power cells with higher capacity last longer. Another thing to look out for is the recharge time of the battery. The faster recharge time you can get, the most quickly you can get back into action.
Also, put preference on cameras with removable batteries. It will allow you to change the battery whenever necessary. So you won't have to wait until the battery is fully charged.
Water Resistance
Most of the action cams are water-resistant to some degree. But you should do a double check depending on your activity. For example, it would be a bad idea to bring a splash-resistant camera to record surfing.
There are also separate cases available to make these cameras waterproof. If you are going to get into the water, go with full preparation.
How To Use a 4K Ultra HD Action Camera
The most important two things to remember when using a 4K UHD camera is battery life and memory. Another important thing is proper mounting. Remember this tip before we dive deep. Switching resolution to 1080p would help record a few extra minutes when running low on memory and battery.
4K UHD is considerably sharp and clear than 2k and conventional 1080p resolution. As it has to handle many more pixels, the sizes of clips are significantly more generous in size than lower resolutions. So, the memory card tends to fill up quickly compared to other resolutions. You will need to go for a bigger size, like 256GB, 512GB, when choosing memory cards.
The cost of capturing more pixels is higher too. The process of saving clips to the memory card happens inside the camera. It uses the battery to do so. As you might have guessed, the battery tends to drain quickly when it is used. These small cameras use smaller batteries to meet power demand. Only a battery with the most capacity might not cut it. It is better to keep a couple of extra batteries around when going on a trip.
Make sure the camera is mounted correctly every time you use it. Nothing is worse than saving a great clip only to lose it in water or jungle or a desert. The proper mounting will also minimize the risk of the device taking accidental blows. Consider 4k sports action camera review when considering a sports action camera.
Frequently Asked Questions (FAQs):
Does an action camera zoom in and out?
Yes, most of them can zoom in and out. Some cameras have a fixed zoom.
Can an action camera be used as a regular camera?
You can use an action camera as a standard camera.
What is the best action camera for the money?
GoPro makes the best actions cameras.
Is 1080p better than 4k?
No, 4K is far better than 1080p.
Are action cameras worth it?
If you are serious about the craft, then yes. They are worth it.
Are cheap action cameras any good?
They are suitable for starters.
Are all GoPros waterproof?
Yes, all of them are waterproof.
Bottom Line
Don't wait any longer to capture the moments of your life with these action cameras. Every camera on the shortlist is considered the best 4k action camera in their respective category. All you have left to do is pick your best fit and start enjoying the adrenaline rush. I bid you all the best for your next adventure.
Related Posts: