It's never too early to introduce a camera to your kids to unleash their creativity at a very tender age. If your 10 year olds kid is into photography, why not try to help him develop his skills? Keeping this in mind, manufacturers bring simple and easy to use cameras for the little ones.
Presenting a camera to your toddlers will help you to visualize their perspectives. A camera will encourage them to value beautiful things. Above all, in this era full of skillsets, it will help your child to be skilled in photography, which may widen many windows for them in the future.
Finding a camera for kids isn't an easy task to do. There are lots of available options for you to provide a camera to the little ones. This article will try to help you choose the best camera for 10 year olds.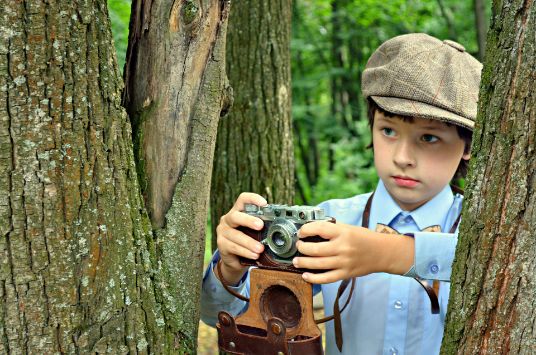 At A Glance: My Top Recommended Camera for 10-Year-olds
4K video resolution, simple, smart operation, built-in GPS, eCompass, waterproof, adventure friendly
Rugged camera, Auto time zone and geotagging function, wireless connectivity, LCD monitor, battery drains out fast
Lightweight, silicon cover, selfie, auto face detection, affordable, tiny
Lightweight, anti-shake, self-time, continuous shooting function, no wireless connectivity
Instantly print photos, LCD viewfinder, rechargeable batteries, slow start-up
Mini-games, waterproof case, 1080p video resolution, 3-level volume adjustment, bad volume quality
Selfie functionality, fun games, cute, Durable and shockproof design, Automatic shutdown function
Best Camera for 10-Year-olds: The Review
1. Best Overall: Nikon W300 Waterproof Underwater Digital Camera
Things We Like:
The simple, smart operation designed for action
Built-in bright LED light
Onboard GPS, eCompass
Point and shoot ease
If your child is one of the thrill-seekers and action-hounds, meet the COOLPIX W300, a tough-as-nails camera designed for the extremes. Also, the camera produces the best quality pictures.
Nikon W300 digital camera brings everything a kid needs from his first camera. With touching a button, the camera records 4K UHD or 1080p Full HD videos. Also, your toddlers can learn how to make time-lapse videos. The camera offers 5x Optical Zoom NIKKOR Lens with Hybrid VR to let them have flexibility capturing the farthest subjects. The COOLPIX W300's 16 MP low-light sensor produces excellent photos.
Good news for the adventure freak kids as they can take the waterproof camera for Scuba diving, fishing, or having fun in the swimming pool. The camera is also freezeproof to 14 degrees that makes it perfect to be carried with while the little masters are skiing or snowboarding. You can just rest assured after getting the shockproof and dustproof Nikon W300 to your toddlers.
Kids these days are smart and love to share their stories on social media even at 10. At least, the statistics express that 21% of the kids have a profile by the age of 10 and increases to 34% by 11. Keeping that in mind, COOLPIX W300 comes with built-in Wi-Fi and Bluetooth to connect to compatible smartphones and share them instantly. The camera also helps with 20 standard Scene Modes like Night Landscape or Portrait.
Why is the Nikon COOLPIX W300 is our top-pick?
The Nikon COOLPIX W300 is the best beginner camera for 10 year old kids with the most straightforward and smart operational design. The 4K enabled camera produces excellent pictures and recordings for them. It's also durable and robust, built to survive in extreme conditions to meet their little masters' quest. The wireless-enabled camera stays in out top list by maintaining all standards.
Summary: If your kids are adventurous in nature, the Nikon W300 digital camera is perfect for them to start with. The camera provides almost everything to the toddlers to grow their interests in photography. Getting the camera to your 10 year olds kid is genuinely worthy. 
👍 Pros:
4K video recording capability
Adventure friendly
16 MP photos
👎 Cons:
Issues with waterproof quality
Wi-Fi connection creates trouble
2. Runner-Up: Fujifilm FinePix XP130 Waterproof Digital Camera
Things We Like:
Best rugged camera
Burst mode for hassle-free shooting
Auto time zone and geotagging function
Fujifilm FINEPIX XP130 is one of the best-looking cameras for the kids with a rugged body. The camera is ideal for outdoor adventures, so you can let your kids have the freedom to use the device with full liberty.
The FinePix XP130 offers an internal 5x optical zoom lens, which means that the kids can zoom right up to the action, even underwater. The technology continues to impress with the added application of Intelligent Digital Zoom. The camera also features a 16.4 megapixel back-illuminated CMOS sensor capable of delivering advanced image quality even underwater or low light conditions, making it the best camera for kid to take to camp.
If you have already come across Fujifilm's cameras, you should know about its best color reproduction. It would be an excellent bonus for the kids to have such a colorful and large 3-inch LCD monitor that maintains its compactness with the lightweight. Children can capture unique landscape electronic level. The eye-detection feature helps to capture portraits more easily by automatically focusing on the subject's eyes.
The cmera also includes wireless connectivity and Bluetooth compatibility to connect with the smartphone to share pictures and videos on social media. The auto time zone and geotagging function adjust the camera's time zone and record the location the toddlers capture so that they can identify the places later.
Why Runner-Up?
The Fujifilm FINEPIX XP130 is one of the finest cameras that your kids can have. But the camera doesn't offer the 4K video recording that Nikon COOLPIX W300 offers. Nevertheless, Fujifilm's 1080p still produces amazing videos for kids. This is the only reason we have kept the device as runner-up on our list.
Summary: Even though the camera has few reviews to be leaked on the usage, most users find it very comfortable to use. The camera offers flexibility to use with full liberty to the kids. Overall it's an excellent camera to have for the adventurous little photographers. 
👍 Pros:
5x optical zoom
3-inch LCD monitor
Wireless connectivity
👎 Cons:
Water leaks in the lens for some users
Battery drains out fast
3. Best Budget: Magicfu

24MP Dual Lens

Kids Camera
Things We Like:
High-resolution video recording (1080p)
Interesting frames, special effects, and filters
Large battery (1000 mAh) and screen (2.4″)
Multiple shooting options
If you search for the best kids' camcorder camera and a toy camera for children's delicate eyes, Magicfun kid's camera can be the best choice for you. The low-cost camera comes with a compact and lightweight design.
The Magicfun kids' camera offers 24 Million Pixels and 1080p HD Video to attract children's attention, making them really like this camera, taking pictures, and love to record a beautiful world. The children also get better and larger vision with a 2.4-inch large LCD blue screen to discover their colorful worlds. To make it durable and safe for toddlers, the device includes a protective shockproof silicone shell.
The kids' camera comes with a 32G SD card & USB cable, so you don't need to pay extra costs to purchase data transference. However, you can't connect the camera with a wireless connection. The camera comes with a Built-in 610mAH battery with a charging time 1-2 hours and 20 days long standby time.
The camera excels in autofocus shooting, self-timer and time-lapse shooting, face recognition, smile capture, and continuous shooting mode. To keep the control simple and easy, one-click return, added 6 scene selection functions are added to it.
To attract the children, the Magicfun kids' camera carries cartoon stickers. It can be an ideal Christmas present for your 10 year olds.
Summary: The Magicfun kids' camera's multiple functions make the camera not just as an ordinary kids toy, but a real camera that can cultivate children's creativity. If you are looking for an affordable camera for your child, the camcorder camera could be a good choice to record tan excellent of your lovely kids' childhood. 
👍 Pros:
Achieves the selfie function with Front and back lens
24 million pixels high photo quality
Face recognition automatic smile shooting
Affordable
👎 Cons:
Image quality not suitable for adults to use
Tiny size
4. Best vlogging-Digital Camera HD 1080P vlogging camera
Things We Like:
8x digital zoom and flight light
Lightweight and easy to use
Built-in intelligent anti-shake function
If you like to keep the memories of the child alive or your little kids want to start vlogging from its tender age, the vlogging digital camera is here for them to make a way. The Mini camera with three continuous shooting functions won't let you miss any incredible shot, and easily choose the best photo you want.
The digital camera produces videos at 1920×1080P HD resolution and supports a maximum 30MP image resolution. It allows your children to enjoy clear shots or videos. The camera supports SD card up to 128GB so that the kids need not worry about the storage. However, you need to purchase the SD card separately. The camera's built-in intelligent anti-shake function can take smooth photos and videos even in scenes with poor stability.
The point-and-shoot camera also features 8X digital zoom and supports smile shooting to capture every happy moment of the little ones' life. It includes flash functions to take better pictures under low-light conditions. The compact, lightweight, and pocket-size design make this digital camera easy to carry everywhere and super convenient to make vlogs by your 10 year olds kid. It comes with easy-to-view and easy-to-operate buttons to navigate easily.
Summary: The digital vlogging camera is easy to use for both photos and videos. It's lightweight and straightforward operation makes it the best vlogging camera for toddlers with HD resolution recording capability. If your kids like to start their vlogs by now, this is the best camera suitable for 10 year old interested in photography and video logging. 
👍 Pros:
7 Inches LCD
Self-time function
Continuous shooting function
5. Best Instant: Zink KODAK Instant Digital Camera
Things We Like:
Instantly prints the photos
Includes LCD viewfinder, built-in editor and auto flash
Includes rechargeable batteries
If your kids smile a lot and want a personal camera, we bring more reasons to bring smiles on their faces. The Zink KODAK SMILE Instant Print Digital Camera features a trendy slide-open design so that they can take snapshots the moment inspiration hits. An LCD viewfinder display and built-in editing features make it easy to make every shot perfect before you print them out.
The KODAK Instant Camera Uses Zero Ink Technology to print HD quality photos on 2″ x3″ ZINK sticky-backed photo paper. The kids can watch their memories become physical prints. Moreover, the ZINK paper cuts down on the waste that goes into landfills, resulting in a happier, healthier planet. The camera introduces the option to either print automatically or to print only when you tell it to. That means you can take your time getting the perfect shot before committing to a print.
The Smile camera is pleasantly compact, unlike other instant cameras considering the usage for the toddlers. The 10MP camera keeps it simple to take, edit, and share photos anywhere you like! Making it one of the best video camera for a 10 year old. Also, includes auto flash, LCD viewfinder, built-in editor, 2 picture modes & fixed focus. The Instant Print Camera is rechargeable via the included mini USB cable, which helps not to worry about changing batteries.
Summary: Instant cameras are famous for their simplicity and easy-to-use. Considering the facts, the Zink KODAK SMILE Instant Print Digital Camera serves the kids the best. It enables the children to get back to the early photo-printing era and develops their creativity. Thus, this is the best instant camera for 10 year old kids to have. 
👍 Pros:
Includes five sticker frames​
Each print features peel-off adhesive backing
Easily add a frame around your photo
Value for money
👎 Cons:
Slow start-up
Average print quality
6. Best action camera: PROGRACE Children Kids Camera
Things We Like:
Built-in 40 photo frames
Mini-games for the kids
Comes with a durable waterproof case
If your kids like to have an action camera to go beyond the limit, the PROGRACE kids' camera is ideal for them with waterproof compatibility and long-lasting battery. It's a good starter camera with five functions that include playback, photography, setting, video recording, and games. The camera is super easy to use for kids.
The PROGRACE kids' action camera features professional HD 1080P/30fps videos, 5MP photos, and built-in 40 photo frames. The video camera comes with enormous features like seven color video modes, 4X digital zoom, burst shooting, time-lapse photo, automatic face recognition, manual brightness adjustment, 3-level volume adjustment, and mini-game for the kids. Your kids can use this best camera for taking pictures of toddlers.
The kids' waterproof camera comes with a strong and durable waterproof case, easy to install, which allows them to take pictures and videos while swimming, skating, biking, and skateboarding. The action camera enables 1.5 hours of continuous recording time so the children can record without thinking of battery life.
Summary: As an adult, you may want a lot from an action camera. But the kids need a lot less than you. They need waterproof, robust built, long-lasting, and quality video recording from their action camera. Considering the facts, the PROGRACE camera is the best action camera for 10 year olds kid without question. 
👍 Pros:
1080p video resolution
4x digital zoom function
3- level volume adjustment
👎 Cons:
Bad volume quality
Need a micro USB to operate
7. Best selfie camera: OZMI Upgrade Kids Selfie Camera
Things We Like:
Selfie functionality
Lightweight and adorably cute appearance
Durable and shockproof design
Built-in fun games
If your kids love to take selfies like you, then the OZMI kids selfie camera comes with this super cute yet durable kid's digital camera. It is tiny and cute in size, which will fit in your little one's palm perfectly and give them good control. Not to mention the neck strap that comes with it making it easy to carry wherever they go.
Compared with other kids' cameras, the OZMI selfie camera provides high definition photos and videos with 8x zoom and 12MP. The camera includes dual Front and rear camera equipped with a 2 inch 1080P IPS screen. It also supports self-timer using which kids can capture great moments with their friends and family.
The camera is made with high-grade eco-friendly materials which have a protective shockproof shell. Kids can quickly drop the camera as they are not as cautious as we adults are. No worries. Not to be fooled by its small and cute look, it can withstand drops making it extremely durable. So, you can rest assured while your little one is capturing their happiness.
With the 850mAh long-lasting battery, the selfie camera lasts 3-4 hours, taking pictures and 2 hours recording videos after a full charge for 1.5-2 hours. Again, it comes with an automatic shutdown function that can be selected in 1, 3, or 5 minutes mode, which comes handy for kids who forget to shut the camera off. The camera comes with a 32GB micro SD card, enabled to store more than 2300 photos. So you don't have to empty the storage frequently if your kids love to take a lot of pictures.
The camera also comes with three fun puzzle games and can play music if you load it to the card. It will help you to fix their over-reliance on mobile phones. Therefore, this can be a perfect present for their birthday or Christmas. Just go for it and forget the fear of your kids begging for your phone to play games.
Summary: OZMI Upgrade Kids Selfie Camera can be a perfect choice for you if you want to gift your kid a selfie camera with a cute look and feels but a durable build. Its lightweight design, long battery backup, automatic shutdown functionality, huge memory will give your kids the full freedom and flexibility they always wanted. Your kids can play with it as much as they want. So you can give it to them and chill by yourself, forgetting about the supervising. 
👍 Pros:
2000W Front and rear cameras
1080p FHD video
Automatic shutdown function
👎 Cons:
Very small in size
Makes loud, exaggerated noises while clicking photos
---
What to Consider Before Purchasing the Best Camera For a 10 year olds?
You should not continuously supervise while your kids are taking pictures. They may feel irritated and end up keeping the camera in the storeroom. That's why you should ensure buying a camera easy to control and friendly to use. Here are some of the factors you need to consider before purchasing a good camera for 10 year olds kid.
Megapixels
Cameras specifically targeted for the kids usually come with poor megapixels. It is completely fine for the kids to use unless you want to print the pictures out. If you would like to print the photos out from a camera with poor megapixels, the result will be unsatisfactory. So, while buying the best camera for 10 year olds boy, you should check back for the cameras with decent megapixels.
Zoom
It doesn't matter the subject is close or far away from them; kids like to capture photos anything they want to. You already got the importance of an excellent zooming camera for the little photographers. The best digital camera for 10 year olds should offer decent zooming capability.
Battery
Well, kids are not supposed to be as responsible as you. They will forget to charge the batteries of the camera. Some cameras have really worse battery backup. Imagine you get one of them to your child, and the camera shuts down in the middle of his journey. Indeed, you won't be liking his loud crying for the rest of the time, right? So, search for the cameras with good battery backup and carry an additional recharged battery with you if possible.
Durable and Waterproof
Your 10 year olds kid may not be hiking or diving, but a durable camera will always have your back if kids like to throw them frequently. Also, kids who like adventurous life will surely take the camera to extreme conditions. So, before they easily break the expensive cameras, you look for the most durable cameras.
Kids also love to record their underwater adventures, and you would love to keep the memories for a long time. Buying a waterproof camera is a big bonus for that reason.
Expandable Memory
Kids like to take lots of pictures. They simply don't care about storage. You can buy an additional memory card while purchasing the camera. Otherwise, be prepared to get busy to empty the storage very often.
How a 10 year old kid should maintain his/her camera?
Like most electronic devices, cameras need extra care when being handled. Improper handling can damage its sensitive parts. Surely, kids won't be as careful as us adults. But you don't want the camera to get ruined by them so easily for mishandling, do you?
After all, it's you who have to go for repairing or repurchasing it. We are here with some tips and tricks to follow that will help you maintain your kid's camera, making it usable for a much longer time and capturing their happy memories:
Avoid getting the camera wet unless it's waterproof. Or else, moisture will build up inside, which will destroy its internal components.
Teach your kids to keep their cameras clean always. Cleaning wipes can come really handy. Put some in their camera bags. Check if the lenses are clean from time to time as they are more delicate and need better maintenance. Follow the user guide on how to take care of the lenses if required.
Replace the cap on the lens when the kids are not using the camera. Dust set on the exposed lens quickly.
Warn them not to drop it or shake it excessively. Even the most durable ones can get destroyed by doing so.
Make sure to store them correctly if the kids are not going to the camera for a long time. Remove the batteries. Try to keep it in a cool and dry place with some packets of silica gel.
Be careful not to keep it under direct sunlight for prolonged times. Pointing the camera towards direct sunlight for long can damage the sensor.
Attach a strap to the camera. It will make it super manageable for the kids. Again, the chances of dropping it by mistake will decrease too.
Conclusion
Choosing the best camera for 10 year olds kid or a camera for 7 yr old isn't as easy as considered. However, there are many best starter camera for 10 year old for you to choose from. Before buying one, you should consider which one of your kids will use for a long time. The camera will be his/her first personal camera that will help them to learn basic photography and develop creativity.
Well, by now, you should have already got which type of camera or video camera is the best first camera for 10 year olds kid. The cameras come in different colors and cute designs. You can go up the review part to see them on Amazon and show your kids the cameras' pictures. After all, their choices also matter!!
Related Posts: