The smart high-tech best security cameras are becoming easier-to-use, more efficient, and smarter. Long gone those days when installing outer or internal security cameras were a costly and complicated task!
Now, if you want to increase home safety, there is an array of the cheapest home security cameras. This is high time you brought home the best possible standalone security camera for the money. And the best part is you can easily access or monitor them via smartphone, tablet, or laptop.
Are you getting confused on which one to buy to keep an eye on your pets or kids, or to monitor all of the entrances of your office? Fret not! We have come with the cheapest security camera reviews to help you out in the crowd.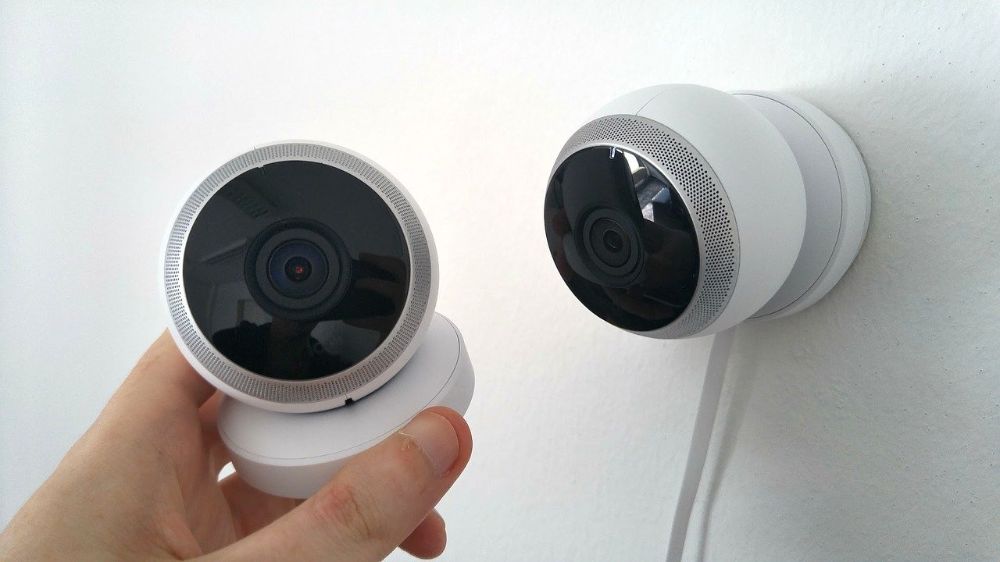 Here are our top Recommended Cheapest Security Cameras at a Glance:
Best Overall – Blink XT2 Outdoor/Indoor Smart Security Camera
Runner-up – Wyze Cam 1080p HD Indoor 
The cheapest – Blink Mini – Compact 
Best outdoor – Hosafe wireless PTZ outdoor Security camera
Best indoor – Wyze Cam Pan
Best wired – REOLINK PoE IP Camera Outdoor 5MP
Best night vision – Wansview Wireless wifi 
What Is The Best Security Camera For The Money?
There are various ranges of cameras. You need to set your preferences to have the best one for you. The model should have the two-way talk feature to communicate properly. Then, the live view feature enables you to view live video footage from anywhere you are. It should have the motion alters options to detect any sound. The video should be clear and recognizable. And the cheapest security camera cloud storage is also preferable for backup.
After thorough research and analyzing the user-experience, the Blink XT2 ticks all the boxes without breaking your bank.
Types of Security Camera
Purchasing a security camera can be confusing as there are different types of security cameras available. Before buying one, you need to understand which camera suits your security need.
Bullet Camera: The name indicates its long cylindrical shape, which looks like a bullet. It can be mounted in a wall or ceiling, indoor or outdoor. There should be a lip cover, which makes it waterproof.
Dome Camera: Dome camera is almost similar to Bullet Camera, but it can give you more wide pictures. You can use them outdoor or indoor on the ceiling or wall. Both of them give 1080P HD to 4K Ultra HD quality. They have night vision mode too. They are normally connected with a DVD or an RNR, which gets connected with the router.
IP Camera: IP or Wireless IP cameras continuously streams data through a wireless network. But they need a power cord for the power supply.
Voice Integrated Camera: These wireless security cameras can be controlled and monitored via voice command. These cameras are flexible, easy to use and offer comprehensive coverage for the users.
Outdoor Camera: For outdoor, a camera needs to be waterproof, and it should have a heat and motion sense detecting sensor.
The 7 Best Cheapest Security Cameras Reviews
The first and topmost duty of a security camera is that it provides security by recording live video. But there are many factors that make security cameras superior to others. So, before wasting your money on any other bad buy, read our honest reviews below and choose according to your preference.
1. Best Overall – Blink XT2 Outdoor/Indoor Smart Security Camera
Key Features:
Indoor and Outdoor Camera
Compatible with Alexa and IFTTT
Two-way audio to communicate both ways
comes with night vision for crystal clear footage in the dark
Blink offers no-frills security cameras at a price nearly anyone can afford.
This camera is powered with two AA lithium batteries. Besides, you have got one Sync module, which can extend the camera's battery life and helps to communicate via a wireless signal. The blink xt2 has got your back at least for 2 years.
It records free video storage that you can watch in the Blink app. This one is fully IFTTT compatible. This one is one of the best outdoor wi fi camera systems as it is weather-resistant. It can do customizable mobile detection.
You can get 1080p HD live streaming and night vision. It will send push notifications or alerts to your smartphone via an app when the sensor senses any movement.
A Tip: As it comes with a two-way talk feature, you can use it as a video doorbell.
Summary: The Blink XT2 is the best budget security camera system comes with convenient features like a 110-degree field of view, indoor and outdoor placements, push notifications when activity is detected, free cloud storage, and so on. It works as both an indoor and outdoor camera.
👍
Pr
os:
Great two-year battery life
Ideal for renters and small spaces
Free cloud storage and no subscription fees.
Versatility for indoors and outdoors
weatherproof outdoor cam
👎 Cons:
The motion detection sometimes don't work properly
2. Runner-up – Wyze Cam 1080p HD Indoor Camera
Key Features:
Sharp 1080p resolution video.
Two-way audio and 110-degree field of view
Motion- and sound-triggered recordings.
Compatible with Alexa and Google Assistant
Night vision
When the Wyze cam 1080p comes to your hand, you will be amazed at its latest iteration. Its performance, features like motion tracking, increased audio capabilities, powerful CMOS image sensors, all of these you are getting without breaking your bank.
Its flexible hinge and swivel base let you angle the camera in any direction. The upgraded CMOS sensor delivers a 1080p video at 15fps. The microphone and speaker offer two-way audio with an enhanced audio amplifier.
You can get detailed information with the help of this cheap home security camera system as it has got a 110-degree viewing angle and an 8x digital zoom. Again, it can track the sound of a smoke or CO alarm and send a push alert when detected.
The model provides you with black and night vision for up to 30 feet as it has four infrared LEDs. There is a microSD slot under the base and a wifi radio under the hood. The installation is a cinch too. You will be directed through the device.
Summary: The Wyze cam V2 is one of the most affordable home security cameras, which is small in structure but big on features. This model can track the motions, offer two-way audio communication, free cloud storage, night vision, 1080p video with minimal distortion.
👍
Pr
os:
Offers sharp HD video quality
The base lets you attach it to any surface
No subscription requirements
Inexpensive, small, flexible form factor.
You can set a custom motion detection zone for free.
👎 Cons:
Does not connect directly with other smart devices
3. The Cheapest –

Blink Mini Compact indoor plug-in smart security camera
Key Features:
Two-way audio
Smartphone notifications and Amazon Alexa integration
Motion detection
Free Cloud storage
Full HD
This is one of the tiniest and cheapest blink security cameras where no batteries are needed. Plug-in your device and you are good to go.
This refined and discreet device is the best indoor wifi camera. It is a corded device with a 2 meter (6-feet) length cable, which is long enough to be connected to a nearby socket.
It has got a 1080p sensor with a 110-degree FOV. The video quality is brighter and less noisy. You will get infra-red night vision for crisp dark shots. The device comes with two-way audio. Again, it has the activity zone so you can customize according to your need.
The setting up is a cinch. You only need to plug in the device, and with the help of the Blink app and wifi, you are ready to go.
Summary: If you want to keep your belongings in check without costing you the earth, grab this blink mini. With the solid day and night vision and reliable motion detection – it can serve you with what you really want – nothing more, nothing less.
👍
Pr
os:
Easy setup
Affordable and reliable
Compact
offers HD video
right cord length
👎 Cons:
Not comes with bells and whistles, which is a compromise for the price.
4. Best outdoor – Hosafe wireless PTZ outdoor Security camera
Key Features:
HD video
Two-way audio
Floodlight Camera with Motion Detection
2.4G wifi, Dual Antenna
Day & Night vision available
Emai Alert & Upload to FTP Server
ONVIF IP Camera
The Hosafe wireless PTZ outdoor Security camera is a bundle pack of all the lucrative features. The HD quality video, 2.4G wifi, 2-way talk, day and night vision, floodlight, alerts, weatherproof, IP camera, and so many more – it has no room for upgrade.
This weatherproof device has come with motion and sound detection feature to protect your home from burglars. It is a software package as it has an ONVIF IP camera, Wifi system, multi-user capability, etc. You can now communicate with your guests as it has two-way audio. The dwellers can get sound sleep as they have this device with night vision to rely on.
The intelligent mode can detect a motion, and it turns on the floodlight and detects any movement at night. This model also uploads a video on an FTP server.
Summary: The HOSAFE PTZ camera has got your back with great quality features. It caters to all your needs – video quality, two-way talk, motion detection, weatherproof, night vision, and so on.
👍
Pr
os:
Has got the best security camera installation
Can track any movement quite well
Weatherproof
Allows to connect most famous NVR, NAS, and ONVIF software
Supports multiple users
Great night vision
👎 Cons:
Not have the cloud storage
5. Best Indoor –

Wyze Cam Pan 1080p Wi-Fi Indoor Smart Home Camera 
Key Features:
Up to 1080p HD resolution
two-way audio
Motion tracking and time-lapse video.
Supports Alexa and IFTTT.
Mechanical pan and tilt.
Wifi connectivity
Longer power cord
The Wyze cam pan is an incredible option as it can automatically do motion detection and tag with 360-degree coverage in under 3 seconds. Now you can listen and talk to your family when you are not even at your home with the help of two-way audio. Again, this customizable Wyze security system features night vision too.
This is one of the versatile yet cheapest security cameras for home as you can do a live stream from any place with its compatible Wyze app. And you can also get notified when any sound or motion is detected.
The best part is this gadget records a 12-second clip when any motion is detected. And this clip is saved to the cloud storage for 14 days. If we talk about the local storage option, this model includes a built-in microSD card.
You can use your voice to watch things on your gadgets as Wyze cam can work with Google Assistant and Amazon Alexa.
It has got a 360-degree pan range and a 93-degree vertical tilt range. It follows a rotation schedule to check more territory, and you can specify up to four points for motion detection and recording.
Summary: If you are looking for a smart indoor affordable security camera, take a glance at our Wyze indoor camera review! This model is loaded with features such as tracking motion zones, mechanical pan and tilt, local and free cloud video storage, compatibility with Alexa and Google Assistant, and so on.
👍
Pr
os:
Smart home compatibility with Alexa and Google assistant
Offers 360-degree coverage
Covers huge area
versatile yet cheap
6. Best Wired – REOLINK PoE IP Camera Outdoor 5M
Key Features:
5MP video resolution at 30fps
Auto-switching IR-cut filter
64 GB micro sd card
IP66 Weather-resistant
This one is the best-wired NVR system to keep an eye on items you hold dear. If you have spotty wifi, its 330 ft ethernet cable can be helpful. This indoor/outdoor weather-resistant option offers a 5MP HD PoE camera with 100ft night vision. It has 18 infrared LEDs with an 80° wide viewing angle that offers crisp images and videos.
This device can do a live stream with the help of Google assistant and Free Reolink apps.
The high-resolution video records and the high FPS offers you night video stream seamlessly without a freeze.
The best part of this appliance is this camera supports motion-activated recording. And it can offer continuous recording if it is added to Reolink NVR.
Summary: This one is the best for checking your valuables day or night, both indoor and outdoor. This device offers great quality video and audio, motion detection, super night vision, and easy setup.
👍
Pr
os:
Great video quality
Easy to set up
Affordable
Customizable motion clip
Great night vision
No connectivity issues
7. Best Night Vision – Wansview Wireless

Home Security Camera
Key Features:
15 fps at 1080p
105° field of view
16 ft night vision
The wansview Q5 best cheap security camera has covered you all around. You can enjoy 1080p HD video, a 320° pan range with 4x digital zoom, two-way communication, night vision, and so on.
The crystal clear, smooth live video helps you to keep an eye on your things. And the patented microphone and speaker offer two-way audio. And you can command it through Alexa to show your either baby room or front door.
You can remotely monitor every corner with its wide-angle lens, pan, tilt, and 4x digital zoom functions. This best outdoor security system comes with the cheapest security camera cloud storage and 128GB MicroSD card.
Above all, this is one of the cheap hidden security cameras that support 4 users to view simultaneously on your smart devices.
Summary: Wansview Q5 wireless outdoor security cameras are the newest collections for keeping your home safe. Its superb video quality, accurate motion detection, cloud storage, and all endless innovation make your life better.
👍
Pr
os:
A broad field of view
Crisp night vision
Quick set up
👎 Cons:
The wireless connection is not up to the mark
Buying Guide of The Cheap Security Cameras
Buying some random affordable security cameras will not serve your purpose. We are going to emphasize some specific factors you need to look for when buying security cameras on budget –
Camera Variations
Security cameras come in different types of models. Bullet cameras are mostly recognizable as they are with several wired systems. Dome cameras are mainly set on ceiling sides; however, some models can be used remotely. On the other hand, wireless cameras are the choice of new generations that use wifi and use different power methods.
App Features
After deciding the camera suitable for you, it's time to look for handy and special app features to make your life smooth. Firstly, two-way talk is an essential tool for you if you have babies or pets.
You can use the voice function through the app to talk on the other side. Secondly, the live view is another essential tool that enables you to view live video footage from anywhere you are.
Thirdly, without motion alters options installed, you should not get along with any security cameras. On the other hand, the geofencing tool lets you set a virtual boundary around your convenient area to detect any motion surrounding. It will also help if you are looking for those best budget security cameras to add users for easy using these features.
Image Parameter
Most of the affordable security cameras can now keep recording at 1080p Full HD resolution. However, some models still use 720p, while some have a capacity of 4K resolution. Note that more resolutions mean more bandwidth.
High Dynamic Range
One of the best features you should look for in hidden security cameras is a high dynamic range or HDR. When a side of the footage is dark, and another side of it is incredibly light, you cannot see anything correctly. HDR is a unique software that balances the lighting for a clear view.
Night view
Mainly security cameras with inferred (IR) have two segments; LED light that transmits infrared rays and image sensors that catch them. The LED light then exposes the camera's surrounding area creating blank-&-white night view footage.
Extra Features
Multi-tasking cameras are always the best gadgets to have. You can cross-link smart home devices with some security cameras such as locks, lights, Amazon Alexa, or Google Assistant. Some models have built-in smart doorbells and lights, making your daily life more comfortable.
Frequently Asked Questions (FAQs)
What's The Difference Between Surveillance Cameras And Security Cameras?
Surveillance cameras work on IP (internet protocol) network that connects them from remote areas to the assigned location. But security cameras, also known as CCTV cameras, collect the video feeds from a particular place and transmit the signals to a definite receiving equipment like a monitor.
How Does a Wireless Security Camera Get Power?
1. Battery 2. Wireless Transmitter 3. Plugging Into An Electric Outlet
How long do security cameras last?
The life expectancy of a security camera can differ according to their quality. However, a good camera will last ten years or longer. But the recording device should be changed in about 5 years.
How much storage do I need for security cameras?
60 GB will be the best storage for your security camera. It's not too expensive and can record quality video at less than 10 fps for multiple months. Continuous recording at SD resolution for 1-2 weeks is possible with this storage. Again, if you want continuous recording at almost all Standard Definition for 1 month or longer, you should go for more bandwidth like 120 GB to 240 GB.
Do Security Cameras Have Audio
Security cameras can have audio. But most of them don't record audio because it's illegal to record a conversation between people without their consent. Recording of conversation is possible only when people give their consent.
Conclusion
The best part of having a smart home is knowing what is happening when you are not actually there. And these cheapest security cameras are great tools for keeping an eye on things from afar. Always check out your preferences before having one. Do you want a device for your indoor or outdoor? Are you looking for bells and whistles in your model or not?
Keep in mind the caveats, and you are good to go! Share with us which one is your favorite from the list!
Related Posts: