Security is an absolute necessity in the modern world. Be it a home or storefront, having security is essential. This is where security camera systems come for your rescue. They operate as an extra set of an eye for you.
Setting up a camera security system with DVR is very cost-effective. There are many DVR cameras in the market. Choosing the best one might get confusing sometimes.
We poured hours of research into finding out the best outdoor security camera system with DVR. We think our DVR security camera system reviews will help you to pick the right one.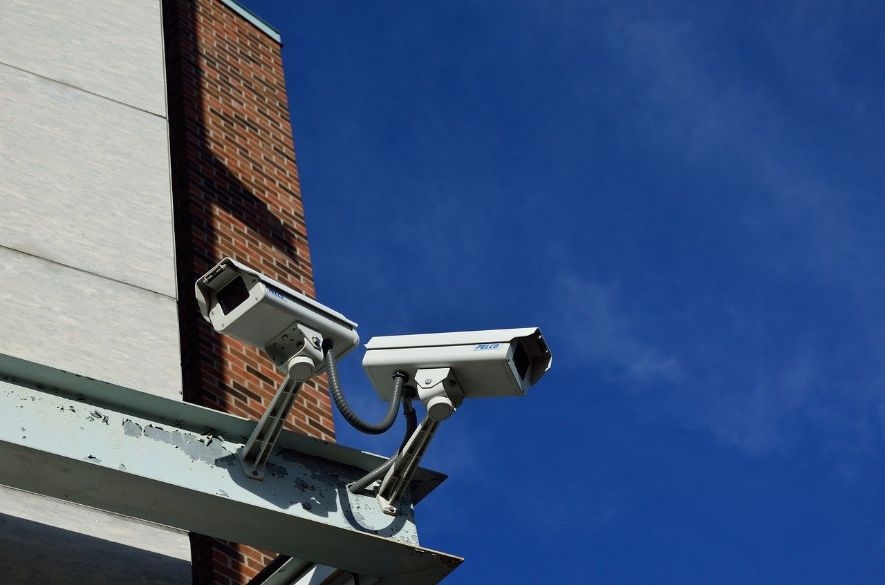 At A Glance: My Top-Picked DVR Security Cameras
IR-LED for Night Vision; Up to 65Ft; Intelligent Motion Detection; 1080P; 5MP camera; 1TB HDD
IP67 rating, 8CH Analog HD/Analog + 2CH IP, industry-leading H.265 coding,
Smart because it supports Audio Capture, Weatherproof, Color Night Vision, Heat & Motion Sensing Warning Light, Alexa + Google
Low-budget; IR Night Vision, Motion Alert, Remote Access, 7×24 REC; No Hard Drive
Night Vision, Waterproof, Motion Alert, Remote Access
8MP camera; 3TB HDD
What Are the Difference Between DVR and NVR?
The term DVR means Digital Video Recorder. In the DVR system, the cameras are wired. The connection to the camera works through coaxial cables. It processes data in the recorder.
On the other hand, NVR stands for Network Video Recording. It can be wired or wireless. The video is processed in the camera.
Aside from DVR costing less, the cameras are different in many ways. DVR uses an analog camera; NVR uses a digital camera. In the DVR system, each camera needs a separate power source. It is not a necessity in other systems. The NVR system utilizes CAT5 or CAT6 cable, while DVR requires coaxial cables.
The ports used in both systems are also different. There are limited audio ports in the DVR system where NVR can have audio support with all the cameras.
How Does DVR System Work?
The DVR system works with a bunch of analog CCTV cameras. Sometimes, a personal computer is used as a DVR. The cameras have connected the system with coaxial cables. These cameras continuously capture footage and send it to DVR as an analog signal. The DVR then converts those analog signals into digital. Then saves the data on a hard drive.
What Are The Benefits of DVR Security Systems?
The best benefit of the DVR system is they are cheaper and easy to upgrade. If you have that old VCR in your home, you could easily upgrade it to a DVR system. The system uses conventional CCTV cameras instead of advanced security cameras. So, this makes the whole system less expensive by a considerable margin.
The DVR system uses old, straightforward mechanisms and steps for capturing, processing, and saving footage. They tend to give a stable performance without any hiccups. Even if there is any, troubleshooting is straightforward.
You can also have access to the video through the internet. The DVR system supports this feature, like NVR ones. But you will need some technical expertise to make it work.
Best Outdoor Security Camera System with DVR and NVR: The Review
1. Best 16 channel: SMONET Surveillance 5-in-1 5MP Security Camera System
Key Features:
Plug and play
Customizable motion detection
App compatible
Remote access
This DVR system can support up to 16 cameras while providing some great features. For these reasons, we picked this for the list.
Suggestion
This unit has poor heat control. It only supports one phone for remote access.
Remember to place the camera under shade when mounting. Install the app on the person's phone, who can take action if anything goes wrong.
Features Explanation
First of all, it has 1080p recording capability on a 1 TB HDD. Using the H.264 Pro compression, you will save up to 60% of disc space. So, you will be saving money on HDD over time. With remote access, you can see the feed from anywhere, meaning you are never really away.
It has an IR LED night vision and intelligent motion detection system. That means you can mark the relevant areas for motion detection. It helps to minimize false alarms. The night vision can cover up to 65 feet. Therefore, you are getting minimum disturbance and an extended range of night vision. It will come handy in all situations.
It is the best outdoor security camera system with DVR among the 16 channel category. If you need to cover a lot of areas and lighting is not an issue, then you should definetely go for this camera.
👍
Pr
os:
Motion detection
1080p video feed
Up to 16 camera support
👎 Cons:
App is not optimized
Night vision is not up to the mark
2. Best 8 channel: ANNKE 8 Channel 8 Camera Security System
Key Features:
IP67 rating
265 Encoding
IP camera support
2 TB HDD
We picked this system because it has superior technology like H.265 encoding, excellent IP rating, IP camera and etc.
Suggestion
The wire is not adequate. The night vision has a shorter range.
If you need to install the camera outdoor, you will need longer wire. You could light up around for a better view.
Features Explanation
This unit uses a 5MP HD camera for recording. The clips you will see will be very clear. It uses H.265 compression and a 2 TB HDD. For this reason, this machine can keep recording for 70 days without overwriting. So, you can focus on more critical tasks at hand.
It can handle almost all kinds of environmental exposures. This camera will keep recording from -40F to 140F temperature. Also, rain won't pose any threat. So, you have the freedom to mount it anywhere you see fit.
The night vision and motion detection have excellent quality. You can set it up to notify you on the phone if any motion is detected. You will have proper control over the premise. Moreover, it can support up to two IP cameras. With this unit, you will have a lot of flexibility than any other system.
If you are looking for a system that uses top-notch technology, then you have found it. To learn more about this system, you can visit the amazon store from this link below.
👍
Pr
os:
Easy to install
weatherproof
Great compression
👎 Cons:
Inadequate cable
Short night vision
3. Best 4 channel: Swann 4 Channel 4 Camera Security System
Key Features:
Alexa and google compatibility
Colored night vision
Weatherproof
Heat sensor
This system has featured a heat sensor, smart device compatibility, color night vision and etc. That is why we put it on our list.
Suggestion
Only rotates in two directions, up and down.
So, plan carefully how and where you want to mount it.
Features Explanation
It is a rough and tough security camera system that records in 1080p. The 90-degree viewing angle gives plenty of room. This unit can capture audio too. So, you can record audio and video of any event that happens.
This weatherproof camera has both heat and motion sensors. A combination of these two sensors gives excellent results in all kinds of weather. Whether it's night or day, you will have great footage.
This device is also compatible with Google and Alexa. Using Google or Alexa, you can give many commands to it. You could playback video, receive notifications, or live stream using those digital assistants. This feature increases your ease of access by a lot.
It is, without doubt, one of the best DVR security systems. If you are looking for a four-channel all-rounder system, then this is it.
👍
Pros:
Smart device compatible
Smart search
Cloud compatibility
👎 Cons:
App service lacks integrity
Poor technical service
4. Best Budget: TOGUARD Home Security Camera System 4pcs 1080P Cameras
Key Features:
IR night vision
Water resistance
Motion detection
Remote access
We picked it because it is an affordable security camera system that provides all the necessary features.
Suggestion
There is no manual available for the app. Sometimes it does not send the code in the email that it requires to operate over the internet.
You could use remote access through the local network.
Features Explanation
This camera system can work 24×7 in 1080p. While the price is relatively low, it offers night vision and motion alerts. Alert can be set for distinct areas of the coverage. The infrared night vision can monitor objects up to 65 feet away. So, you are getting a standard package at a low price.
It has a privacy protection feature. You could set up to 4 zones for concealing off area for privacy. It allows us to record everything with ease. It is effortless to set up without any professional help. You will be saving a few bucks here too.
It comes with an IP66 rating. Meaning it is water, dust, heat, and cold resistance. Wherever you mount it, it will last for a long time.
It is a low priced alternative if you are short on budget. It covers all the necessary functions. Check out the product and decide if you need it. In case you are looking for something simpler, take a look here.
👍
Pro
s:
Affordable price
Meets basic requirements
Remote access
👎 Cons:
No built-in HDD
Adjusting night vision is difficult
5. Best wireless: Heimvision HM241 1080P Wireless Security Camera System
Key Features:
WiFi surveillance
8 channels
Waterproof
Smart notification
This security system does not require wires to operate. It made a place on the list for this reason.
Suggestion
The power cord for the camera is only 3 meters long.
You might need to buy a longer power cord depending on the power socket position.
Features Explanation
The best feature it provides is the wireless experience. Often the options are limited when mounting these cameras due to cable management. This is no longer the case. You just need a power source, and you could mount them anywhere.
The cameras are plug and play. So, you could connect them very quickly. Another exciting feature is that it has a snapshot/email alert. You will receive a notification as soon as there is any motion. You will enjoy the extra peace of mind.
You could download the 'IP Pro' app and get remote access to the camera. It is effortless to use. No matter where you go, you could have an eye fixed on the spot. This camera can withstand exposures from the environment as it is dust-tight and water-resistant.
Managing cables needs extra work. If you want to get rid of that extra work, this is definitely for you. It is one of the best outdoor wireless security camera systems with NVR.
👍
Pro
s:
Records continuously
App is easy to use
Dust resistance
👎 Cons:
Hard Disk Drive not included
No audio recording
6. Best 4k: Reolink 4K 16CH PoE Security-Camera-System
Key Features:
4k resolution
Powers over the ethernet
16 channels
Up to 8TB HDD support
Along with a few great features, it can record videos at 4k resolution. That is why we picked it for the list.
Suggestion
The app has limited functionality on macOS.
Using it on Windows PCs would solve the problems with functionality.
Features Explanation
A highly noted feature of this camera is the 4K recording. It will give you many clear and crispy images. With this one, you will get a live feed of the best quality.
The cameras are powered through the Ethernet cable. They do not need any external power source; you will have more freedom when mounting these cameras.
The system supports up to 8 TB HDD through two ports. This feature gives you a much-needed storage option for 4K videos. You will be able to record enough days before changing the HDD.
With a built-in mic and 97 degrees viewing angle, you will get a great coverage area. It also has a night vision. This means whether it is day or night, you will have a recording of everything that happens. With 16 channel support, you will be able to cover a vast viewing area.
It is among the best outdoor wired security camera systems. If you prefer very high-res pictures than 1080p recording, this is definitely the best choice. If you want a budget-friendly version, you can check this one too.
👍
Pr
os:
Great video quality
Does not need an additional power cord
Built-in microphone
👎 Cons:
Frame rate is 20 fps
Need large space for video storage
Key Features Of The Best Outdoor Security Camera System With DVR
Finding out the best outdoor security camera system with DVR could take some work. Some features get precedence over the others. Here are some key features you should look for when looking for one.
Channel
Channels are the number of the camera the DVR can support. How many cameras you could set up with the system depends on the number of channels.
If you need to look out on a large area, 16 channel would be the best. Because it will allow you to hook up 16 separate cameras, covering a large area. On the other hand, 4 or 8 channels are sufficient for covering small to medium spaces.
Viewing Angle
Field of view or viewing angle is the area a camera can see. The cameras with greater viewing angles can see a much larger area.
For example, if you can cover the whole area with three cameras that have a great viewing angle. Then, you can save costs on the fourth camera.
Video Quality
The resolution on the camera is one of the crucial features. It depends on your requirements.
Such as if you need tight security, you should get cameras with better resolution. But they will eat up more storage space in the hard disk. Getting a low-res camera would save disk space, but it might get hard to identify culprits after an incident happens.
WeatherProof
These cameras stay outside day and night. It is essential to make sure weather quality does not affect their performance. Getting weatherproof cameras will save your money in the long run.
Cameras without weatherproof features are sure to get damaged in one way or the other. Weatherproof cameras will save your money as they will last long.
Special Features
Security cameras in DVR systems offers many unique features, such as night vision, heat sensor, motion detection and etc. These features often come in handy in many situations.
For example, the motion detection starts recording when there is movement in front of the camera. It saves a lot of space on the HDD, as there are no unnecessary recordings. With heat detection, recording activates when there are heat signatures in front of the camera.
Warranty
Most DVR security systems come with standard one or two years of warranty. Few might not come with a warranty at all.
Remember the phrase 'the more, the merrier' when it comes to warranty. Make sure you are getting at least one year of warranty with the system, if not more.
How To Maintain An Outdoor Security System With DVR?
Rust and corrosions are your enemies. They are slow to spread and damages the camera. If you see any parts with rust or corrosion, replace them immediately.
Cleaning the lenses and covers are essential. Dirty lens and caps will result in blurry images. Use microfiber and cleaning spray to clean them without scratching or damaging the surface.
The DVR will gather dust over time. It needs to be cleaned regularly to keep it running. Otherwise, performance will become stale over time. Use dry cloths to remove the dirt.
Always keep an eye on cable connections. Video transmitting will get hampered if there is any problem with the cables. Check the wires regularly and replace them if they are not serviceable anymore.
Another thing that people often forget to do is to check if the recordings are correctly saved. Faults may emerge any time that might stop DVR from saving clips. Check-in every few days to see if it is recording and saving videos properly.
Conclusion
Security is an asset in the modern world. Be it home or office; a security system would be a great help if properly installed. So, the best outdoor security camera system with DVR would be a great help to anyone who seeks security.
We think the best outdoor security camera system with DVR reviews will narrow down your choices. All the security camera systems mentioned above are best in their respective field. You could pick one that fits you without any second thoughts. We are confident they will serve you a great deal in the coming days.
Related Posts: