Webcams are a daily necessity for the working people as well as the students. It is even more true if you are a content creator or need to attend a lot of online meetings. A 4K webcam would be a great help for online conferences.
The 4K webcam will provide the best quality image possible. The two secrets of a great online meeting would be the best audio and video quality. Luckily 4K webcams cover those basics and then some more.
We will be guiding you to pick the best 4K webcam that suits your need. There are many great and not-so-great webcams in the market. So, stick with us till the end, and you will find the best one for you through this best 4k webcam review.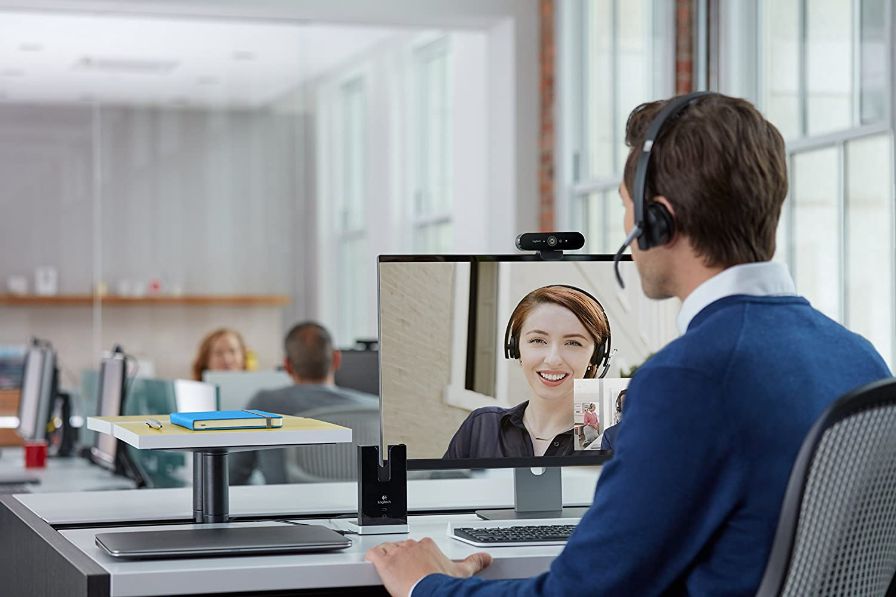 Here are Our Top Picked of 4k Webcams at a Glance:
Best overall: Logitech BRIO 4k Ultra HD Webcam
Runner's Up: Adwaita 4K Webcam with Microphone
Best Budget: XPCAM Professional 4K Webcam
Best Portable: IFWATER 4K Ultra HD Webcam
Best for Online Class: IPEVO V4K Ultra Document Camera
Why Should you Get a 4k Webcam?
As the mainstream media is moving from 1080p to 4K, as a content creator, you should not lag behind. The 4K resolution was a big deal like 5 years ago but not now. Almost every household has one monitor or TV that can stream 4K. You should really invest in a 4K webcam to stay on top of the league.
On the other hand, if all your meetings have moved online, then you should take a look at 4K webcams. Meeting rooms in most offices are equipped with 4K monitors. Also, the crisp 4K images will give off a really professional vibe.
The 5 Best 4k Webcam: Our Honest Reviews
1. Best Overall:

Logitech BRIO 4k Ultra HD Webcam
Things We Like:
Automatic light adjustment
Enterprise-ready
5X zoom
Face recognition
We picked Brio Logitech as the best because it is unparalleled in terms of features, build quality, and software support. Logitech webcams also have great reputation for the quality. This is not a bias Brio review, rather our opinion on facts and research for the best webcam review.
This is a plug and play device that is certified to operate with the most popular software. You just need to connect it, and you are set. This is the most significant benefit of these products.
This excellent 4K webcam has a premium glass lens, HDR, and auto-focus. So you will have get experience with it's true to life video sessions, whether it's an online meeting or a live stream. You could use this wide angle streaming camera with a great comfort.
The RightLight 3 technology automatically compensates and adjusts glare and backlighting. You could set it up anywhere and start getting productive. There is no reason to worry about lighting conditions.
Windows Hello application allows users to log in without a password. It uses face recognition as authentication. Using the webcam with Windows Hello would significantly improve ease of use.
This unit is certified for Cisco Skype zoom and other popular video calling software. As a result, you won't have to deal with any kind of hassles when connecting to the web sessions.
A Tip: You will need more than 8 Mbps upload speed and a USB 3.0 port for the best performance.
Summary: W
hether you are looking for streaming or online meetings. This is by far the best
webcam for zoom meetings
. This webcam has managed to tick all the necessary spots you will need. 
👍 Pros:
Uses Type C to USB 3.0 cord
Comes with a camera cover
Plug and Play
Great video quality
👎 Cons:
The arm takes noticeable space on borderless monitors
Cropping out the background requires excellent lighting.
2. Runner's Up: Adwaita

4K Webcam with Microphone
Things We Like:
Compatible with many devices
Built-in stereo microphone
Automatic light correction
Easy to use
This webcam is made to the list because it is compatible with many other devices.
The best benefit is that it can be even used with smart TV, Android, Linux devices alongside PC, Mac, and Chromebook.
You will get to use it with almost all kinds of devices. This webcam supports from macOS to android and everything in between. This is a one-stop solution to use the cam on multiple devices.
Alongside excellent video quality, the microphone is made of good quality as well. It can pick up sound from 16 feet away. No matter where you in the room, you will be heard even in a noisy environment.
The mini webcam tripod and 6 feet connecting cable give you great freedom to place it as you want. Due to the built-in color correction, you could put it anywhere regardless of the lighting condition. And still get the optimal result.
A Tip: It has a dedicated button to freeze the screen during video calls or recordings.
Summary: This webcam supports many devices and operating systems. It is best to use it where webcams need to work with many other devices.
👍 Pros:
Sharp pictures
Plug and play
Built-in microphone
Comes with tripod
3. Best Budget: XPCAM Professional 4K Webcam
Things We Like:
Built-in noise reduction
HDR Technology
Automatic Light correction
Privacy shutter
We put this unit on our list because of its affordability. The benefit this webcam provides is that you will have all the standard features at the minimum price. It is rare to get these features in this price range.
This affordable tool comes with a mini tripod. When setting up, you could set it on all kinds of surfaces and at any angle you want. This gives you tremendous versatility when setting up. It is suitable for all sorts of streaming, such as OBS, Zoom, Hangout, Twitch, etc. You can get to work as soon as you plug it in.
As it has a microphone built-in, so you will not need an additional device to deliver sound. This camera has a noise reduction system built into it. It will provide sound with excellent clarity.
Alongside, privacy shutter, it uses HDR technology and automatic light correction. No matter what kind of environment you work in, you will get a seamless experience.
It is compatible with PC, Mac, laptop, desktop, and so on. You can use it as soon as you plug it in as this webcam does not require an additional driver.
A Tip: You will need USB 3.1 to use it in 4K resolution. Also, make sure the software default resolution is set at 4K.
Summary: This is the best budget 4k webcam for streaming. You are getting all standard requirements checked. But do not use it at a stretch for a long time. Because components tend to fail when it overheats. 
👍 Pros:
Low price
Comes with tripod
Easy to use
Great quality
👎 Cons:
Does not work well with green screen
Sometimes FPS decreases when zoomed
4. Best Portable: IFWATER 4K Ultra HD Webcam
Things We Like:
Compact design
High-quality image sensor
Variable focus
Wide field of view
This camera is very compact in size, which gives it better portability. For this reason, we chose it for the list.
It provides the user with great versatility. You could also use it for surveillance, medical machine, VR camera and etc. besides using it as webcam.
This webcam uses a Sony IMX317 image sensor. This 8.51-megapixel sensor can produce a maximum of 249 frames per second. So you will be getting an outstanding performance from this device.
You can use two different video formats. This gives you flexibility ensuring faster transmission. Also, the lens has very good build quality. This means you will have a colorful, vivid, and clear picture.
Given the small size, you can carry it anywhere with you. This webcam takes up very little space. Also, it has a great build. You could put it in the corner of your bag and comfortably carry it around.
A Tip: The manual focus is very sensitive. It might take some practice to adjust.
Summary: This is an excellent webcam that offers the best portability. We recommend it to anyone who has portability on top of the requirement list. 
👍 Pros:
Small size
Great image sensor
Multi-use
Plug and play
👎 Cons:
Very sensitive manual focus
Some software might not support variable focus
5. Best for Online Class:

IPEVO V4K Ultra Document Camera
Things We Like:
Fast focus
Multi-joint stand
Great picture quality
Lag-free live streaming
We put this webcam on our list because it is very flexible and offers features that help in conducting online classes.
You will enjoy the benefit of multi-joint and fast focus. These features will allow you to comfortably change direction between the board, documents, and yourself.
The most exciting thing about this webcam is design. With the fast focus and multi-joint structure, you could change between a different object with comfort. For example, during a class, you could easily show a piece of document or the board. Moving the camera around has never been easier.
This 8-megapixel camera captures lively images in 4K. It uses a Sony CMOS image sensor. This sensor has an excellent reputation for noise reduction and color reproduction. So, you will be getting the best possible picture.
It supports a variety of software and application. The Chromebook, PC, Mac will utilize it in different ways. You have the opportunity to get really creative with streaming using this webcam.
A Tip: This webcam needs 256 MB of dedicated video memory for lag-free streaming.
Summary: This camera offers great flexibility to its user. If there is a meeting where the user will need to show different objects, or there is a class to be taken. Then, this camera, without a doubt, will be a good choice. This is the best webcam for exercise classes. 
👍 Pros:
Well-designed stand
Great auto-focus
Easy to use
Adjustable exposure
👎 Cons:
No instruction comes with the box
No built-in light
What to look for in the Best 4K Webcam? [The Buying Guide]
You should remember a few things when looking for a good 4K webcam. Let's take a look at them.
Light Correction
If there is a problem with exposure, contrast, or brightness, many webcams have an internal lighting system that tries to correct it.
For example, if the light is too dim, Logitech uses the RightLight feature to compensate for the lighting. Other manufacturers use the same technology under different names.
Connection Type
Most of the webcams use USB 3.0 or USB 2.0 to connect with other devices. Some even use Type-C connection. And a few can utilize all three types of connections.
If the webcam supports multiple ports, you would have a device with superb usability at your disposal.
Auto-focus
You won't be standing still in front of the camera through the whole sessions. It is natural to move around a lot within the frame.
Auto-focus helps a great deal as it will always keep the focus on you. You could move around freely, and the focus will always be on you.
Microphone
Some webcams have a microphone built-in. Getting such one will help you in the long run as you won't have to carry a microphone separately.
But you will have to make sure that the quality of the microphone meets your requirement. Otherwise, you will be left with a bad experience.
Enterprise Ready
If you do not want to go through the hassles of installing drivers, check if it is enterprise-ready.
Enterprise Ready devices are plug and play. They are certified to work with popular software like Skype, Zoom, Facebook Messenger and etc.
Zoom
Having the zoom feature makes you very flexible in front of the camera. Variable zoom gives you to choose a different field of view.
This will come in handy when you would want to block unnecessary screen space.
Versatility
Some webcams are built as a clip to mount in front of the screen. Some can be mount on a stand too.
You should pick one depending on your requirement. An extra stand can both give you flexibility and liability to carry around.
Compatibility
Why end up using webcams only on PC? If you can have more options. There are some cams that can be used with iOS and Andriod. So, the only limit is your creative mind when it comes to their utilization.
How to Improve 4K Webcam Sessions
Here are a few tips on how to improve your webcam sessions.
Camera Placement: The right camera placement solves half of the problems. View the best view angle and set it up accordingly.
Background: Both the background scene and noise can get distracting. Always try to minimize those as much as possible. You will get a relatively better experience without background distraction.
Lighting: Get the best possible lighting for you during the session. Sometimes webcams can help but do not rely on that. How the other side perceives you depends a lot on the lighting.
Bandwidth: If you have limited bandwidth, closing other bandwidth-hogging software will provide a better experience.
Maintenance Tips for 4K Webcams
These devices are simple and need minimum care. They are fairly easy to handle too.
Remember, they are not shock resistant. These webcams use very delicate sensors and electrical parts. So, falling from any distance can cause severe damage. Keep these away from water and other conductive liquids.
Other than that, do not use it for an extended period of time, specially if you use the camera for gaming. Take a little break in between sessions. As 4K webcams need to pull off their best performance, regular long sessions might reduce the expected lifetime.
Security Tips
Follow these tips to stay safe as webcam hacking is getting a widespread phenomenon.
Keep the operating system up to date. This is the most important step for ensuring safety.
Always keep the webcam driver up to date. This is the second most important rule to follow to keep the webcam safe.
Always keep the firewall on. It will keep the bad guys away.
You could use a VPN for an extra layer of safety.
Never click on a suspicious link. If any site asks for permission to use the camera, do not allow it unless you know what you are doing.
The best practice is to keep the webcam disconnected when not in use. So there will be zero chance of hackers taking advantage.
Frequently Asked Questions (FAQs)
How far can a webcam see?
Depending on the quality group, from 10 feet to 700 feet.
What is a 4K webcam?
It is a webcam that can deliver video at 3840×2160 resolution.
Do the streamers use 4K webcam?
Does Zoom support 4K video?
Yes, but you will need to enable it.
Bottom Line
There are many webcams out there. Few of them can deliver 4K video, fewer do that with quality. Even then, there is always some tweaking that needs to be done, like having USB 3.1 or USB 3.0, excellent internet speed and etc. It happens because 4K is not still mainstream.
If you need the best 4K webcam for mac, you can pick any from the list that suits you. We made a list after hours of extensive research and confident that they will serve you very well. The above Brio review shows the quality of their cameras and how important it is consider a Brio webcam review; Logitech Brio 4k Ultra HD webcam review.
Related Posts: