Getting the best Logitech webcam is like getting a Jaguar as a sedan for regular uses. The webcams are elegant, rich in features, and an industry-standard in terms of reliability.
Whether you are okay with decent audio and video quality or picky about the overall experience, we have picked different models according to the needs.
From normal to advanced, budget to premium, several webcams are reviewed by our team. So, let's get to know the reasons behind choosing specifically Logitech webcams and then continue to the reviews.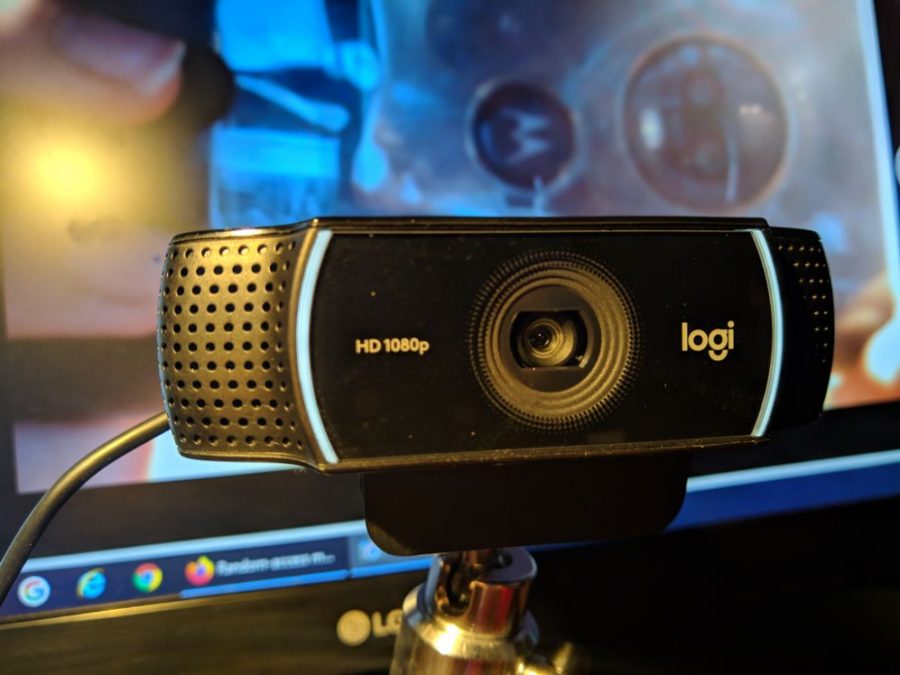 At A Glance: My Top Recommended Logitech Webcams
1080P video at 30Fps, 720P video at 60FPS, 2 built-in mics, automatic light correction, 78 degrees Field of View
5x Digital Zoom, 90 degrees Field of View, Light Correction, 2 built-in mics, Great for businesses
Crisp 3 MP photos, HD 720p video calling, built-in microphone
1080P at 60 fps, Connects with USB-C, Smart auto-focus, Versatile mounting options, 78 degrees Field of View
90-Degree Extended View, Privacy Shutter, built-in flash, Autofocus
Why Should You Buy A Logitech Webcam?
From entry-level to high-end, there are several good-quality webcams manufactured by Logitech. It is a world-famous computer peripherals manufacturer who dominates the industry by availing products for normal as well as advanced users.
One of the main important reasons we prefer Logitech webcams over others is reliability. Where lots of other companies can't maintain the quality of production, Logitech strictly maintains it even though their production setup is in China.
The company faces a lot of competition, but they have successfully placed themselves above all with quality and service. Let's get started with the reviews, and you can understand our reasoning.
The 5 Best Logitech Webcam Reviews
1. Best Overall: Logitech C922x Pro Stream Webcam
Things We Like:
78-degree Field of View
1080P video at 30Fps
Free trial of XSplit
Fast Autofocus
Up to 60fps recording capability, 1080p resolution, RightLight features, and rich sound quality are the main reasons to bet on Logitech C922x. So far, it is Logitech's one of the most reliable and feature-rich webcams.
From this best Logitech webcam, you can expect great audio and video calling experience. It doesn't matter whether you are attending your class, meeting, or joining a conference; this is the king in the best Logitech camera reviews.
It can capture video with 1080p resolution at 30 fps rate. But if you choose to have 720p resolution, you can shoot at 60fps rate which looks more natural.
The 78-degree field of view of this lens is enough for a single-person chat. Moreover, the automatic light correction can generate clear images even in low-light conditions.
Now, regarding the sound quality, you can rely on this camera's built-in 2 Omni-directional microphones. They are capable of reducing noise and provide crystal clear sound on the other end.
If you are a streamer, you would love the XSplit app, and the paid software comes with the webcam that is free to use for the first 6 months.
It supports all the latest Windows, Android, and macOS versions. In terms of privacy, there are no lens covers provided with the package, but you can buy some separately from Amazon.
Summary: If you are looking for a good-quality reliable 1080p webcam, you won't get a better product and deal than this one. Logitech C922x Pro is the latest and popular product from the company.
👍
Pr
os:
Sharp image at 1080p resolution
Good low-light performance
Easy to set up and use
Wide field-of-view
👎 Cons:
The quality at 720p resolution is not satisfactory
2. Best Premium: Logitech BRIO Ultra HD Webcam
Things We Like:
4K streaming
5x Digital Zoom
90 degrees Field of View
Light Correction
For 5x digital zoom, 90-degree wide-angle view, and 4K video recording, we love Logitech BRIO Ultra HD Webcam. It falls under the expensive category, but the price worths its features and performance.
The HDR and Autofocus features add more clarity and sharpness to the image quality. Besides the main lens, there are sensors for light correction and facial recognition. Moreover, its 5x digital zoom makes it the best Logitech webcam for zoom.
For streaming or small conference calls, you can consider this webcam. It is possible because of the good video resolution and a wide-angle lens. You can choose between 4K, 1080p, and 720p resolution as well as 65, 78, and 90 degrees point of view.
The next most important factor is the audio, and this webcam comes with 2 Omni-directional microphones. They also have noise-cancelling features so that your voice doesn't get distorted in the middle of an important meeting.
Its USB 3.0 connectivity and advanced compression technology transfer the captured video efficiently. Finally, don't worry about the compatibility issue as it supports any operating system.
Summary: If you are a streamer who can't afford an SLR or DSLR at this moment, this can be a great option for you. Built-in flash and light correction features will give you better quality in any condition.
👍
Pr
os:
Easy to install
Quick Autofocus
Durable build
Sharp video at 1080p
👎 Cons:
The 4K video resolution quality needs some improvements.
3. Best Budget: Logitech C270i PTV 960-001084 Desktop or Laptop Webcam
Things We Like:
HD 720p video calling
Good-quality microphone
Crisp 3 MP photos
Compatible with all major OS
When you consider a webcam less than 1080p resolution, the video quality becomes not-so-satisfactory for video calling. But that is not the case for the Logitech C270i.
It can provide high-quality 720p images with its 3MP lens. With 30fps frame rate and automatic light correction feature, you can talk on skype, zoom, or other platforms fluently.
The webcam also comes with a built-in mono microphone that can capture your voice up to 5ft away. Even with a busy or noisy surrounding, you can talk, and receivers can hear you clearly.
We didn't expect the auto light correction feature in this best budget webcam. But it has that feature so that you can talk in low light conditions. The clip-mount of the camera is perfect, attaching it to a laptop or desktop monitor.
Summary: Logitech C270i is the best within a budget range and most popular option for ordinary uses. If you don't have lots of requirements for video calling, this will be the wisest choice for you.
👍
Pro
s:
Durable
Reliable
Decent quality for video calls
Easy to use
👎 Cons:
The focusing feature is not satisfactory
4. Best for Streaming: Logitech StreamCam, 1080P HD 60fps Streaming Webcam
Things We Like:
1080P at 60 fps
USB-C connector
Smart auto-focus
Versatile mounting options
As an online content creator, you would love some of the features of this Logitech webcam. For accurate motion and crystal-clear image, it comes with a 60fps frame rate at 1080p resolution.
However, that won't mean anything if you can't transfer the recorded imagery to your computer efficiently. For that reason, the manufacturer ensured the USB Type-C connector and advanced compression system in this product.
With the help of smart Autofocus, you don't have to worry about getting out-of-focus shots. At the same time, it has a wide aperture to let more light in the sensors for bright and natural video quality. The audio capturing quality is good enough, but it is better to buy a high-end microphone separately to ensure a professional setup.
Moreover, you can shift the unit 90-degrees to capture in portrait mode. The multiple-angle mount ability will come in handy in different situations. Overall, the Logitech capture app can help you a lot.
There are some bad reviews about this amazing webcam, and the particular complaints are about its image quality. Indeed, you won't get SLR or DSLR quality, but it is clearer than most webcams. If you are having trouble getting a clean image, you can download and try the official app from Logitech's website.
Summary: For the lossless transmission, good video quality, and better mounting options, you can consider it as the best Logitech webcam for streaming.
👍
Pr
os:
Great streaming quality
USB-C connection
Instant focus
Adjustable mount
5. Best Wide-Angle: Logitech C930e 1080P HD Video Webcam
Things We Like:
90-degree wide-angle View
4x digital zoom
264 compression
External privacy shutter
We know that lots of people search for wide-angle webcams, but there are not many options within the budget. In this article, we have another wide 90-degree point-of-view webcam, and it costs a lot.
So, you can check out Logi C930c for similar types of features without spending even half of the premium pick. Our team likes its H.264 video compression technology and 4x zooming capability.
There are other features and sensors in the unit to ensure good performance in any lighting conditions. Its Omni-directional mics are good enough to capture your voice even in a noisy environment.
The clip with the webcam fits any laptop or desktop monitor screen. But it also has a tripod-mounting feature so that you can set it up according to your calling requirements. Overall, C930c is one of the best Logitech webcams for video conferencing.
Summary: For conference calls, you need a wider viewing angle to cover all participants in the room. So, get Logi C930c which can serve you with conference and business calls reliably.
👍
Pro
s:
Sharp image quality
Easy to use
Extended view
👎 Cons:
It shows Chinese language settings in Chromebooks.
What To Consider Before Buying The Best Logitech Webcam?
Here, we have discussed the parameters that we considered while choosing the webcam Logitech. You should also see them so that you can set your preferences and buy accordingly.
Resolution
The first important spec of a webcam is its resolution because the video quality depends on it. From 4K, 1080p, and 720p video resolution options, the middle one is considered the standard for video calling.
Camera technology has been so advanced that you can get high-resolution sensors at a reasonable price. If you have a budget problem or don't need high-end webcams, you can always go for the 720p option.
Frame Rate
After resolution, your concern should be the frame rate where 30 frames per second are common among different models. It is a decent rate for video calling, but we recommend you get a webcam with at least 60fps.
Higher frame rate means smoother video, and it is ideal for streamers. If you need a webcam for business meetings, you must go with a higher resolution and frame rate.
Exposure and Field-of-View
Exposure is denoted as f/(value), which indicates how much light can get through the lens. More exposure or wider aperture means more light and better picture quality. Usually, webcams come with f/2.0 or f/2.8 aperture, and you should not get anything more than f/2.8. Larger values mean narrow aperture and less light permeability.
The other term field-of-view is also important. Wider angle means the webcam can capture more items beside your face. If the requirement is single-person video calling, less than 80-degree field-of-view is enough. But for conferencing, more people need to fit in the frame, and your camera should have more than 90-degree field-of-view.
Autofocus and Low-Light Correction
Manual focus webcams are not very practical for lots of users. That is why it is safe to go with the ones that offer Autofocus. Also, check whether the webcam has a low-light correction feature or not. Both are necessary for good image quality in any lighting condition.
Microphones
After the picture quality, we need to focus on the audio input feature. Every Logitech camera comes with a built-in microphone. Some models offer noise-cancellation features, and some do not. Those who already have a noise-cancelling headphone do not need to give this feature a priority.
Mounting and Privacy
Finally, look for mounting options and privacy features. All of the webcams come with clip-mounting systems. However, you can always buy third-party stands to mount the camera, position it as it seems fit, and even mount a light.
In terms of privacy, some webcams come with a cover on the lens, and some don't. It is not that important because you can always buy lens covers separately.
The Accessories To Get A Better Call/Stream-Quality From A Logitech Webcam?
For regular and normal uses, our reviewed Logitech webcams are enough to meet your requirements. Yet, we researched some more to introduce you to some useful accessories.
These can increase the audio and video quality dramatically assuming that you have a high-speed internet connection. For professional meetings, game streaming, or creating YouTube contents, the following items can help you a lot.
1. Light stand with webcam mount
Most of the webcams can't generate good picture quality in low-light situations. Also, mounting the unit on an adjustable stand is necessary to ensure the best angle.
Now, both of the requirements can be met with the help of our suggested stand. The ring light has adjustable brightness options and 3 different color settings. It is easy to use and draws the necessary power via USB cable connected to your computer. You can also light it up using a power bank.
2. TopLight Light for Phone, Computer, Video Conference
The light that comes with the previous mounting option might not provide satisfactory quality as per some user requirements. That is why we researched some more and found out this light from TopLight.
The universal mounting clip supports both the laptop screen and the desktop monitor. You can adjust its angle and brightness that is right for your existing setup. This portable light can also be mounted on a tripod. So, don't let low-light conditions stop you from attending a meeting or creating video content.
3. Philips Hue Play White & Color Smart Light
Are you looking for some extra lighting options to give your background a vibrant look? Search no more because we have the perfect solution. Get Philips Hue Play smart LED light that can provide any color you want.
A smartphone app controls the light, and you can even control the brightness with it. It is even possible to integrate the light with your home automation system and control centrally.
4. InnoGear Webcam Stand
Those who are not satisfied with the quality of the stand mentioned above should check this webcam stand. It is a bit pricey, but adjustable options and sturdiness are well worth the investment.
If you are working in a condition where you can't use a clip-mount stand, this one will save your day. The stable base comes with 4 non-slip pieces of cotton on the bottom so that it stays in place even with some load on top. Because of its ball head, you can rotate the camera 360-degrees horizontally, and tilt up to 140-degree vertically.
5. Blue Snowball USB Microphone
At some point in our lives, we all have felt the need for a good-quality microphone. High-end microphones can cost you thousands of dollars. That is why we have researched and chosen such a mic that costs under 120 bucks and captures the sound perfectly.
It is easy to use and comes with a companion app to manage the audio without any hassle. For mid-level setups, this is the perfect condenser mic available in the market right now.
6. OontZ Angle 3 (3rd Gen) – Bluetooth Portable Speaker
Apart from a microphone, it is also necessary to get a device for hearing the voice of the receiver. For a very reasonable price, OontZ Angle 3 is the best Bluetooth portable speaker.
7. Mpow Bluetooth Headset V5.0 with Dual Microphone
If buying and maintaining a separate speaker and microphone is not your favorite, you can buy a high-end headphone. After hours of research, we couldn't find a better noise-cancelling headphone model than Mpow Bluetooth Headset within 50 bucks.
Because of its wireless feature, you won't have to deal with hanging and annoying wires. Moreover, it comes with a huge 22hours of battery backup time to attend long online sessions anytime.
Those are all of the necessary accessories lists and choose the ones that would match your requirements.
How to Set Up A Logitech Webcam On A PC?
Actually, setting up your Logitech webcam is very easy. The processes for both Windows and MAC are almost the same. If you are looking for the Best Logitech webcam for mac or windows, any of the reviewed models can be your choice.
For Windows
Connecting a Logitech webcam to a Windows PC requires no software. Simply, connect the device to your computer via USB port.
After that, you need to check that everything is working before your skype or zoom meeting. Click on the start menu and type camera.
Next, open the camera app and click on the camera rotate icon on the top right corner if you don't see yourself on the screen.
Finally, check whether the built-in microphone is working or not. Click on the start menu, settings, system, sound, and choose the input audio device from the dropdown list.
For MAC
Firstly, connect the webcam to your computer via USB port, and go to Applications.
Now, open the facetime app, go to the video options located on the top left bar, and choose Logitech webcam.
After that, go to system preferences, click on sound, and then choose the camera from the list. All Logitech cameras come with a built-in microphone so that you can start calling over the internet instantly.
Conclusion
Logitech is clearly a well-established name in the webcam industry. We hope that the reviews have helped you choose the right one for you.
Though there are some models on the list that claim that they are streaming-ready, you should know that professional streaming requires a lot more expensive setup.
If you are new or experimenting with content creation, you can go with these webcams. Logically, the webcams are great for video calls as it meets almost all of the quality expectations. So, set your priorities and order one of the best Logitech webcams from our reviews.